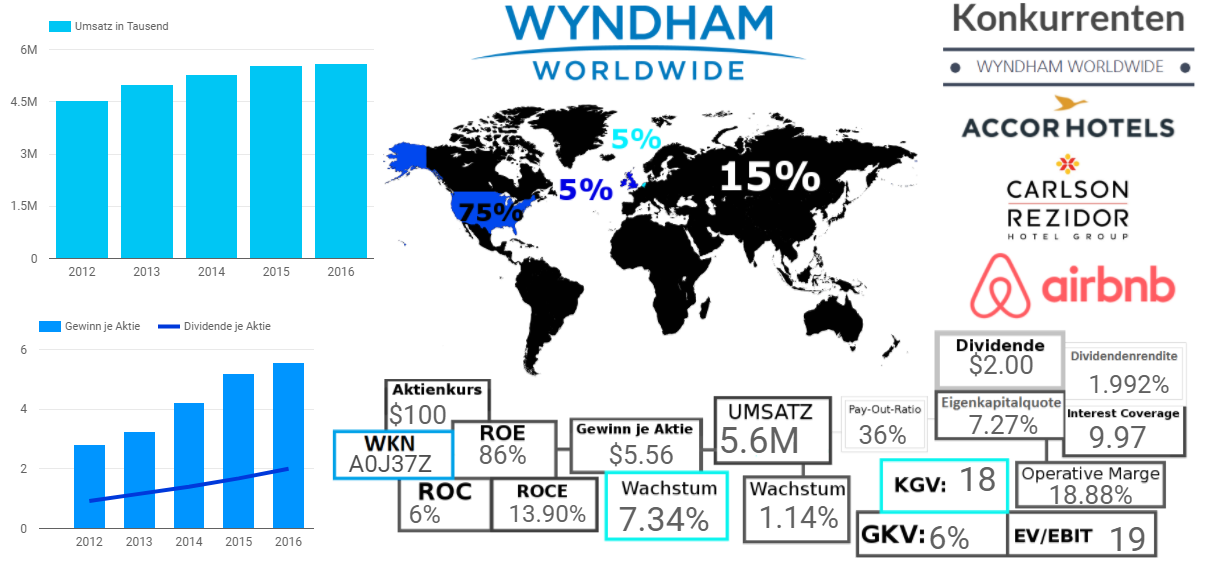 Wyndham Worldwide Corporation
Die Wyndham Worldwide Corporation ist einer der größten Gastgeber-Konzerne der USA, welcher Reisenden verschiedenste Gastgeber-Leistungen durch eine große Anzahl an unterschiedlichen Marken anbietet.
Die Angebote des Konzernes reichen von normalen Hotels bis zu Ferienwohnungen, welche wie gesagt alle unter verschiedenen Marken angeboten werden.
Zu dem breiten Markenportfolio des Konzernes gehören Marken wie Wyndham Hotels and Resorts, Ramada, Days Inn, Super 8, Howard Johnson, Wingate by Wyndham, Microtel Inns & Suites by Wyndham, TRYP by Wyndham, Dolce Hotels and Resorts, RCI, Landal GreenParks, Novasol, Hoseasons, cottages.com, James Villa Holidays, Wyndham Vacation Rentals, Wyndham Vacation Resorts, Shell Vacations Club sowie WorldMark by Wyndham.
Das Unternehmen gliedert sein Geschäft in drei Segmente auf:
Wyndham Hotel Group, das Unternehmen ist, basierend auf der Anzahl an Gebäuden, der größte Hotelbetreiber der Welt mit 8035 Hotels welche Platz für mehr als 697.600 Hotelzimmer bieten. Der Konzern ist in den verschiedensten Segmenten von hochpreisigen First-Class Hotels bis hin zu günstigen Economy-Hotels aktiv, wenn der Fokus auch auf den eher günstigen Economy-Marken liegt.
Wichtig zu beachten ist, dass es sich bei der Wyndham Group um einen Franchise-Konzern handelt, es betreibt die Hotels also nicht selbst sondern verdient sein Geld durch Franchise- bzw. Lizenzeinnahmen.
In diesem Segment betreibt der Konzern auch ein Gebäude-Management-Geschäft für andere Hotels, wobei das Unternehmen bei diesen Geschäften auf einer Gebührenbasis Geld verdient. Der Vorteil dieser Leistungen sind die stetigen Umsatzströme bei minimalem Kapitalaufwand.
Wyndham Destination Network, in diesem Segment ist der Konzern der weltweit größte Anbieter von professionell gemanagten einzigartigen Urlaubs-Unterkünften, zumindest basierend auf der Anzahl an Unterkünften. Das gesamte Netzwerk des Konzernes inkludiert 121.000 Unterkünfte in mehr als 110 Ländern wobei die Unterkünfte von Hütten, Villas und Häusern über Yachten bis hin zu Stadt-Appartements reichen.
Die Unterkünfte gehören dem Unternehmen bei diesem Modell nicht selber, es verdient das Geld also vor allem durch Management-Leistungen der Unterkünfte. Diese Leistungen reichen von der Reinigung bis zur Schlüsselübergabe.
Wyndham Vacation Ownership, in diesem Segment betreibt der Konzern ein sogenanntes Time-Share-Modell. Dabei handelt es sich darum, das kleine Häuser oder Hütten, welche sich meist in einem Resort mit vielen Häusern und Hütten befinden, nicht einer Person sondern mehreren Personen gehören, wobei alle jeweils das Recht besitzen diese Unterkünfte für eine bestimmte Zeit zu nutzen.
Der Konzern ist in diesem Bereich der weltweit größte Konzern mit 219 Resorts, und insgesamt 887.000 Besitzer für die Unterkünfte in diesen Resorts. Das Geschäft des Konzernes besteht dabei sowohl in der Entwicklung dieser Resorts, als auch im Verkauf der Unterkünfte an die jeweiligen Besitzer. Außerdem übernimmt der Konzern das Resort-Management für alle 219 Resorts.
Damit ist das Unternehmen abschließend gesagt mehr Dienstleister und Anbieter von Gebäude- und Resort Management-Leistungen als ein Hotelkonzern.
Fazit - A0J37Z
Praktisch im Jahr der Gründung also 2006 ging die Wyndham Worldwide Corporation auch schon an die Börse, und zwar als Spin-Off der Cendant Corporation. Durch diesen Spin-Off ist ein international breit diversifizierter auf das Angebot von verschiedensten Unterkünften fokussierter Dienstleister entstanden, welcher trotz unzähligen Hotels und Unterkünften nur sehr wenige Immobilien besitzt – Grund dafür ist zum einen ein Franchise-Modell bei den Hotels als auch viele kreative Modelle was andere Unterkunftsarten betrifft.
Doch lohnt sich ein derartiges Modell, oder ist es nicht besser das was man verkauft auch selbst zu besitzen?
Aus Sicht der Margen muss man auf jeden Fall sagen, dass sich ein derartiges Modell durchaus lohnt, da man derartige Margen wohl nur bei wenigen anderen Hotelkonzernen finden wird. Die Rentabilität hinkt im Vergleich etwas hinterher, wobei das vor allem komisch ist, da der Konzern ja eigentlich ein nicht wirklich kapitalintensives Modell betreibt. Grund dafür ist unter anderem ein hoher Goodwill-Wert in der Bilanz. Ohne den Goodwill hätte der Konzern eine Gesamtkapitalrentabilität von gut 7.5%.
Vor diesem Hintergrund halte ich auch die Dividende für ein bisschen zu mager, da ich ohnehin kein Fan davon bin durch Akquisitionen zu wachsen und zwar vor allem nicht, wenn darunter die Rentabilität sichtbar leidet.
Auch finanziell ist der Konzern eher risikoreich aufgestellt, vor allem, wenn man die hohe zyklische Anfälligkeit des Reise-Sektors betrachtet.
Auch das Wachstum macht das Ganze nichtwirklich attraktiver, wobei mich ein durchschnittliches jährliches Umsatzwachstum von 5% in den letzten 5 Jahren nicht wirklich überzeugt.
Vor diesem Hintergrund wirkt auch die Preissetzung mit einem GKV von 6% etwas zu hoch, weshalb ich mir den Konzern nicht weiter ansehen werde und auch keine wirklichen zukünftigen Ambitionen habe dies zu tun.