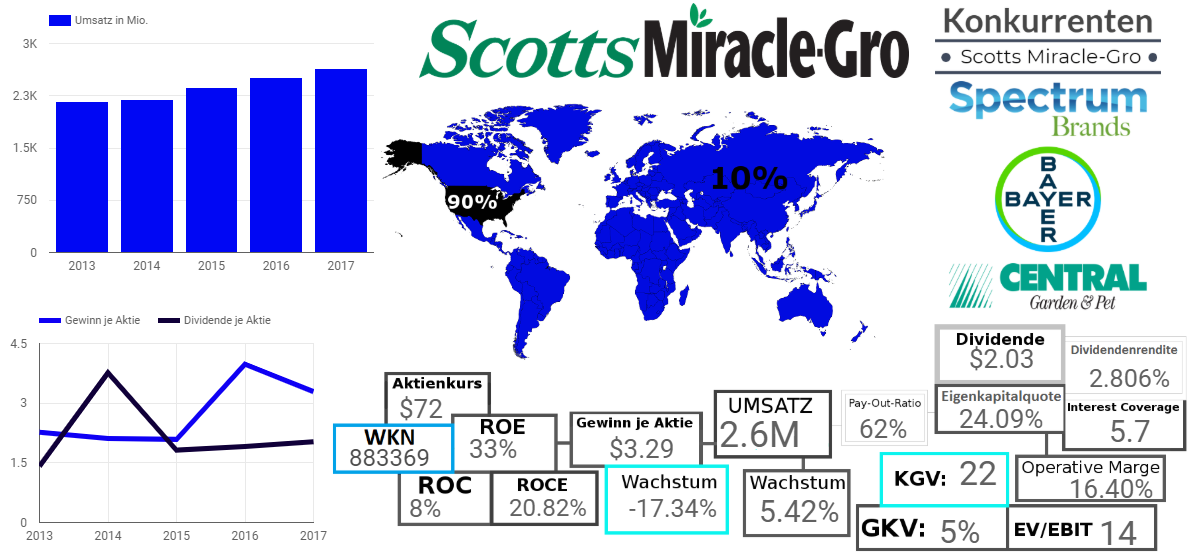 The Scotts Miracle-Gro Company
The Scotts Miracle-Gro Company ist ein führender Produzent und Vermarkter von Garten- und Rasenprodukten für den Endkonsumenten. Das Unternehmen arbeitet dabei unter verschiedensten Marken zu denen unter anderem die Kernmarken Scotts und Turf Builder für Saatgut gehören, Miracle-Gro, Nature`s Care, Scotts, LiquaFeed and Osmocote für Gartenarbeit und Landschaftsbauprodukte, Ortho, Roundup, Home Defense und Tomcat für Insekten- und Unkrautbekämpfungsprodukte.
Das Geschäft des Konzernes wird in die folgenden drei Segmente gegliedert:
US-Konsumentengeschäft, dieses Segment besteht aus den Garten- und Rasenprodukten des Unternehmens für Konsumenten in den USA. Neben den eigenen Produkten und Marken ist der Konzern in diesem sowie auch dem Segment "Andere" der exklusive Vermarkter von dem Monsanto-Produkt Roundup für Konsumenten, einem nicht selektiven Unkrautbekämpfungsmittel.
Hawthorne, dieses Segment umfasst die Produkte des Unternehmens die sich auf den Indoor- bzw. städtischen Gartenbau sowie die Hydroponik, also das Anpflanzen von Pflanzen ohne Erde durch mineralische Nährlösungen in einem Wasserbecken, fokussieren. In diesem Segment forscht und akquiriert das Unternehmen dabei auch im Bereich Cannabis, was aktuell ein minimaler Teil des Geschäftes aber ein eventueller zukünftiger Wachstumstreiber ist.
Andere, in diesem Segment verkauft das Unternehmen Garten- und Rasenprodukte an Konsumenten außerhalb der USA und bedient auch kommerzielle und professionelle Kunden im Bereich des Gartenbaus.
Verkauft werden die Produkte des Unternehmens vor allem an Großhändler, über die die Produkte dann zu den jeweiligen Einzelhändlern und so zu den Kunden gelangen. Aber auch große Einzelhandelsketten selbst sowie Unternehmen im Bereich des Landschaftsbaus gehören zu den Kunden.
Die drei größten Kunden Home Depot, Lowe's und Walmart, die alle dem US-Konsumenten Segment zuzuordnen sind, sorgten dabei alle jeweils für mehr als 10% der Umsätze, was sonst für keinen Kunden des Unternehmens zutrifft.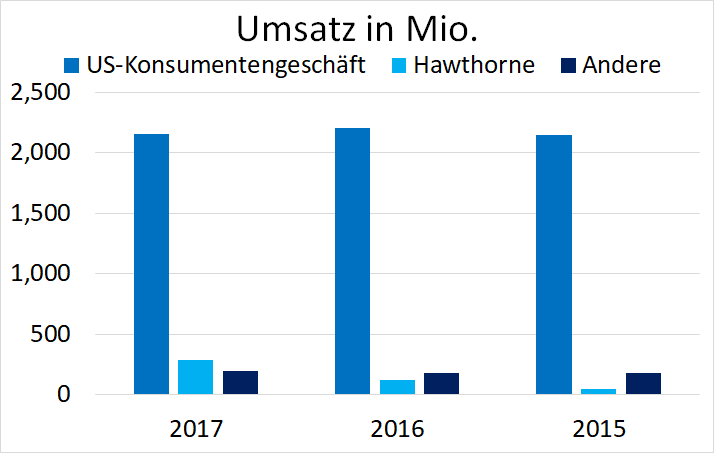 Fazit - 883369
1868 gründete Orlando Scott ein Premium-Saatgutunternehmen namens Scotts, mit Fokus auf die US-Landwirtschaft. In den frühen 1900ern stieg das Unternehmen schließlich in das Rasen-Saatgut-Geschäft für Privatpersonen ein, ein Schritt, der den Weg des Unternehmens im Grunde genauso prägte wie die Gründung selbst.
Mit diesem Geschäft expandierte der Konzern nämlich immer weiter, durchlief einige strukturelle Veränderungen, viele Akquisitionen, so manche Innovationen und ging schließlich im Jahre 1992 an die Börse. 3 Jahre später erfolgte dann die Fusion mit Miracle-Gro, einem Gartenbau-Unternehmen, womit die Scotts Miracle-Gro Company gegründet wurde, deren gut 4700 Mitarbeiter alleine im letzten Jahr einen Umsatz von mehr als 2.6 Milliarden US-Dollar erwirtschafteten.
Dabei wird dieser Milliardenkonzern auch heute noch von seinen Haupteigentümern geführt, so sind Katherine Hagedorn Littlefield, Mitglied des Aufsichtsrates, und James Hagedorn, Aufsichtsrats- und Vorstandsvorsitzender, beide gemeinsam mit ihren 4 Geschwistern Besitzer der Hagedorn Partnership, welche mit einer Beteiligung von 27% der bei Weitem größte Aktionär der Scotts Miracle-Gro Company ist.
Unter dieser Eigentümerführung wächst der Konzern auch heute, mehr als hundert Jahre nach seiner Grundsteinlegung, immer noch recht solide, wenn man mit dem durchschnittlichen jährlichen Wachstum von 5% in den letzten 5 Jahren auch nicht mehr von einem starken Umsatzzuwachs sprechen kann.
Stärker ist da schon die Rentabilität des Konzernes, welche mit einer Gesamtkapitalrentabilität von 8% von klugen Investitionen und keinen überteuerten Akquisitionen zeugt.
Auch die operative Marge kann sich mit mehr als 16% durchaus sehen lassen, wobei dieser Wert von einer respektablen Marktposition sowie ordentlichen Preissetzungsmacht und operativer Effizienz zeugt.
Finanziell sieht die Lage des Konzernes allerdings nicht derartig prächtig aus, so lässt schon die Eigenkapitalquote mit 24% etwas zu wünschen übrig. Prekärer ist allerdings das Interest Coverage von gerade einmal 5.7. Sieht man selbiges vor dem Hintergrund, dass der Konzern drei Kunden hat, die für jeweils mehr als 10% der Umsätze sorgen und damit ein sehr konzentriertes Risiko aus dieser Perspektive hat, halte ich diesen Wert für schlicht und ergreifend zu gering und die Scotts Miracle-Gro Company für zu riskant aufgestellt, weshalb dieser Faktor für mich einen ganz klaren Deal-Breaker darstellt.
Daran ändert auch die Ausschüttungspolitik nichts, welche ich mit einem Pay-Out-Ratio von 62% für recht vernünftig halte, wenn eine Anhebung in Richtung der 75% Marke, aufgrund der beschränkten Wachstumsaussichten des Unternehmens, auch durchaus wünschenswert wäre.
Alles in allem also ein aus Sicht der Rentabilität, des Wachstums sowie auch der Margen qualitativ solider Konzern, dessen finanzielle Aufstellung allerdings unzureichend ist, aus welchem Grund ich eine weitere Analyse weder bei der aktuellen noch einer niedrigeren Preissetzung in Betracht ziehe, insofern aus finanzieller Sicht keine substantiellen Verbesserungen stattfinden.