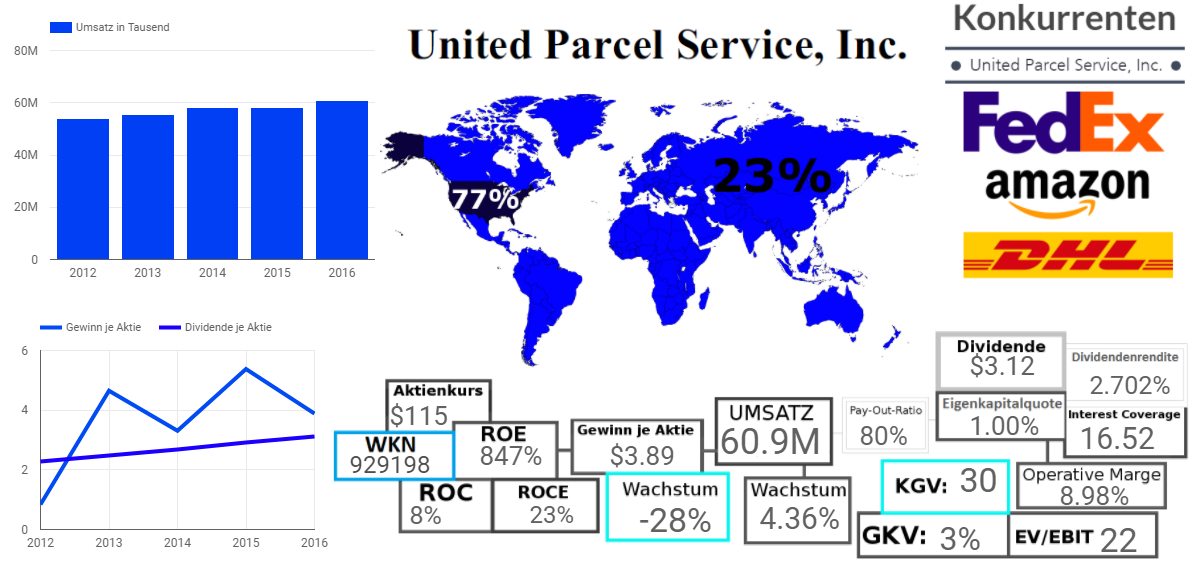 UNITED PARCEL SERVICES OF AMERICA, INC.
Die UNITED PARCEL SERVICES OF AMERICA, INC. ist eines der weltweit führenden Logistikunternehmen und gliedert sein breites Geschäft in folgende drei Segmente auf:
US-inländische Pakete, zu diesem Segment zählt die zeitgenaue Lieferung von Briefen, Dokumenten und Paketen durch die bzw. innerhalb der USA.
Internationale Pakete, in diesem Segment liefert das Unternehmen Pakte in mehr als 220 Länder und Territorien aus. Das Unternehmen ist dabei rund um die Welt in Europa, Asien, Nord- und Südamerika (ausgenommen USA), Indien, mittlerer Osten sowie Afrika aktiv.
Lieferkette & Frachtgut, zu diesem Segment gehören sowohl die Speditions- und Logistik-Tätigkeiten des Unternehmens als auch die Tochterunternehmen Coyote und UPS-Freight. Die Dienstleistung im Bereich Spedition und Logistik sowie die Dienstleistungen des Tochterunternehmens Coyote, werden in mehr als 195 Ländern erbracht und inkludieren unter anderem internationale Luft und Wasser-Spedition, Zollabwicklung, Distributions- und Nachkaufs- Dienstleistungen oder auch Beratungsdienstleistungen.
UPS Freight bietet eine Anzahl an Teilladungs- (LTL) und Komplettladungs- (TL) Dienstleistungen für Kunden in Nordamerika an. Außerdem gehören zu diesem Segment noch einige kleinere Untersegment wie die beiden Segmente UPS Store in dem das Unternehmen professionelle Druckaufgaben erledigt und UPS Capital welches Versicherungsleistungen anbietet.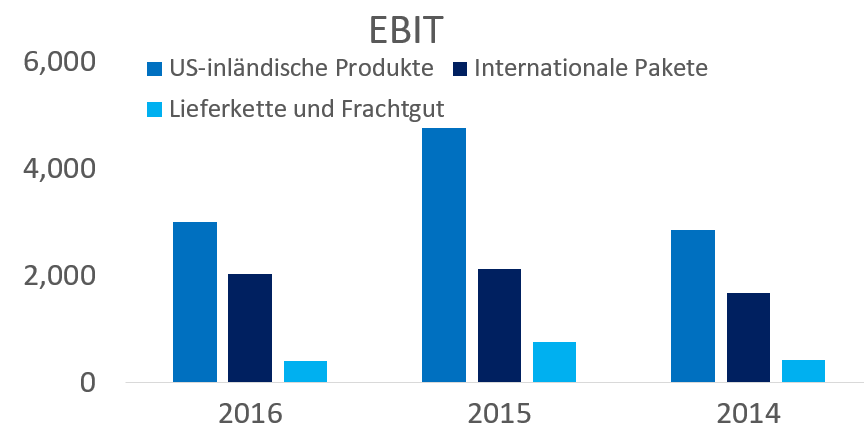 Fazit - 929198
Am 28sten August 1907 gründete James Casey die American Messenger Company in Seattle, Washington mit 100 US-Dollar an Fremdkapital. Das Unternehmen lieferte damals die meisten Produkte per Hand oder per Fahrrad aus und fokussierte sich dabei auf Lieferungen für Einzelhändler. 1913 wurde mit dem Model T Ford das erste Lieferauto des Unternehmens gekauft, und kurz danach folgte die Fusion mit dem größten Konkurrenten Merchants Parcel Delivery.
1919 expandierte das Unternehmen erstmals außerhalb von Washington und benannte sich entsprechend in United Parcel Services oder UPS um. Nachdem die 1930er Depression halbwegs gut überstanden wurde, wuchs das Unternehmen immer weiter und expandierte nicht nur in neue Regionen sondern diversifizierte auch sein Leistungsportfolio, sodass 1999 der Rekord IPO mit einer Marktkapitalisierung von gut 5.5 Milliarden US-Dollar.
5.5 Milliarden ist heutzutage ca. der monatliche Umsatz des 434.000 Mitarbeiter schweren Konzerns und führenden Logistikunternehmens der Welt.
Vor dem Hintergrund des letztjährigen Umsatzes von 60 Milliarden ist das durchschnittliche jährliche Umsatzwachstum von 3% in den letzten 5 Jahren durchaus akzeptabel, wobei dies eine jährliche absolute Umsatzsteigerung von mehr als 1.5 Milliarden US-Dollar bedeutet.
Die Stärke des Unternehmens liegt aber vor allem in der Effizienz, wobei sich sowohl die Gesamtkapitalrentabilität von 8% durchaus sehen lassen kann, genau wie die operative Marge von 9% welche auf eine solide Marktposition hinweist.
Das Pay-Out-Ratio halte ich vor diesem Hintergrund sogar für etwas hoch, muss aber sagen, dass ich es vor allem mit Blick auf die nicht mehr wahnsinnig großen Expansionsmöglichkeiten für akzeptabel halte.
Diversifikationsmäßig steckt vor allem außerhalb der USA noch das meiste Potential, wobei die Konkurrenz international nicht zu unterschätzen ist, weshalb ich mit keinen großen Wachstumsschüben sondern eher mit einer Weiterführung des stabil-soliden Wachstums rechne.
Finanziell ist der Konzern mit einem IC von 17 recht stabil aufgestellt, wobei ich mir vor allem aufgrund der Größe und mäßigen zyklischen Anfälligkeit keine Sorgen mache. Die Eigenkapitalquote genau wie auch die Eigenkapitalrentabilität gilt es hierbei nicht zu beachten, da diese offensichtlicherweise durch Sondereffekte verfälscht wurde.
Alles in allem ist UPS ein solider Konzern, wobei ich die aktuelle Preissetzung vor allem mit Blick auf das Wachstum für zu hoch halte. Bei einem Preisrückgang, werde ich mir das Unternehmen aber auf jeden Fall genauer ansehen, da ich darin einen soliden Titel für ein langfristig orientiertes Depot sehe.