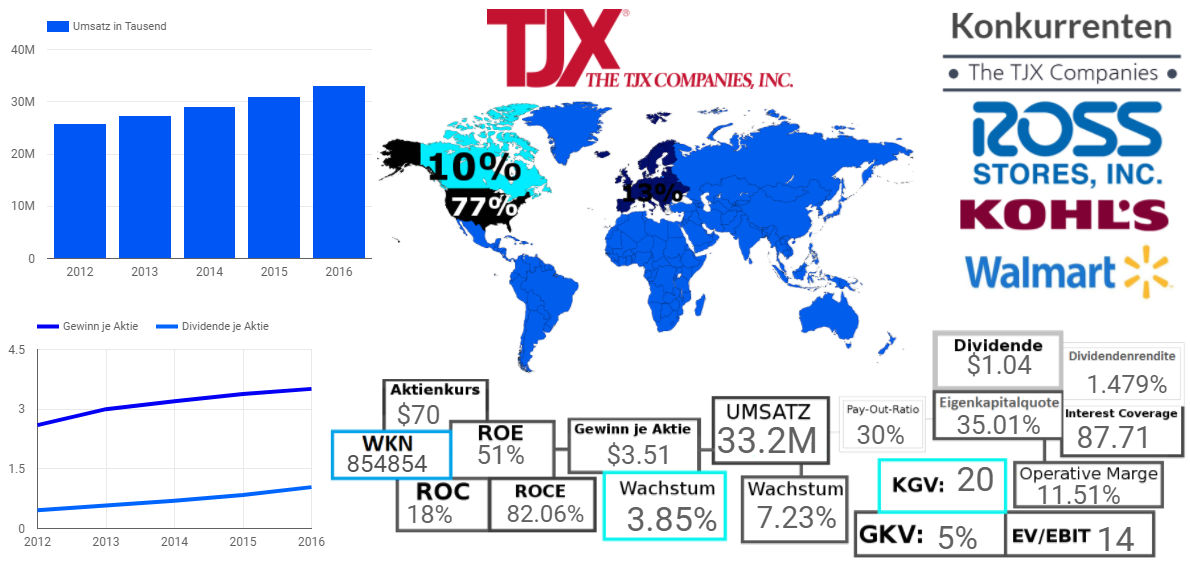 The TJX Companies, Inc.
Die The TJX Companies, Inc. ist das weltweit führende Einzelhandelsunternehmen mit einem Off-Price-Konzept und gliedert sein Geschäft in folgende vier Segmente, welche wiederum aus vielen verschiedenen Marken und Handelsketten bestehen:
MARMAXX, zu diesem Segment gehören die beiden Kaufhaus-Marken bzw. Kaufhausketten T.J. Maxx und Marshalls in den USA. Die beiden Ketten gemeinsam bilden die Marmaxx-Gruppe, welche mit ca. 2221 Geschäften das größte Off-Price Store – Unternehmen in den USA ist. Das Unternehmen verkauft Kleidung (dazu zählen auch Schuhe und Accessoires) und Inneneinrichtung, wie bspw. Lampen oder andere funktionale und dekorative Einrichtungsgegenstände. Die beiden Unternehmen der Marmaxx-Gruppe unterscheiden sich durch ein unterschiedliches Produktangebot bzw. Produktsortiment. Die E-Commerce Web-Site tjmaxx.com wurde erst sehr spät nämlich 2013 gelaunched.
HOMEGOODS, die HomeGood-Kette welche 1992 gegründet wurde, ist ein führendes Off-Price-Store Unternehmen im Bereich der Inneneinrichtung in den USA. Durch die 579 Geschäfte bietet das Unternehmen eine große Bandbreite an dekorativen und funktionalen Einrichtungsgegenständen, wie beispielsweise Vasen, Lampen oder Stühlen an.
TJX CANADA, in diesem Segment werden die Ketten der Marken Winners, HomeSense und Marshalls in Kanada betrieben. Die Kette Winners wurde im Jahre 1990 akquiriert und ist das führende Off-Price-Kleidungs- und Inneneinrichtungsunternehmen in Kanada. Das Produktsortiment welches sich in den 255 Geschäften in Kanada findet ähnelt stark dem von T.J. Maxx. Die HomeSense Kette wurde 2001 gegründet und brachte damit das Off-Price-Store Segment für Inneneinrichtung nach Kanada. Die Kette umfasst 106 Geschäfte mit einem ähnlichen Produktsortiment wie HomeGoods, die große Schwester in den USA. Das Unternehmen brachte die Marke Marshalls schließlich 2001 nach Kanada und betreibt aktuell 57 Geschäfte in diesem Land.
TJX INTERNATIONAL, in diesem Segment betreibt das Unternehmen die beiden Ketten T.K. Maxx und HomeSense in Europa. Heute ist T.K. Maxx mit 503 Geschäften in Großbritannien, Irland, Deutschland, Polen, Österreich und den Niederlanden vertreten. Auch die HomeSense Kette hat seinen Weg nach Europa genauer gesagt Großbritannien gefunden und zwar im Jahre 2008, seitdem hat sich die Kette in dem Land zu einer Größe von 44 Geschäften entwickelt. Das Unternehmen hat Trade Secret im Herbst 2015 gekauft wobei das Produktsortiment in den 35 Geschäften in Australien dem von T.J. Maxx sehr ähnelt.
Insgesamt hat das Unternehmen mehr als 3800 Geschäfte, eine genauere Erläuterung des Off-Price-Konzeptes findest du HIER bei der Analyse des Konkurrenten Ross Stores.
Fazit - 854854
1989 verkaufte der US-amerikanische Discounter Zayre Corp. alle Geschäfte unter der Zayre Marke an einen Konkurrenten, wobei nur mehr Off-Price Einzelhandelsmarke T.J.Maxx bestehen blieb. Schon im nächsten Jahr expandierte der neue Konzern namens TJX nach Kanada und 1992 wurde mit HomeGoods eine neue Marke ins Leben gerufen.
2003 hat der Konzern sein Portfolio, vor allem auch in Folge von Akquisitionen, von 2 zu 8 Marken expandiert und verzeichnete im selben Jahr einen Umsatz von mehr als 13 Milliarden US-Dollar. Seiher hat sich der Konzern beinahe verdreifacht und verzeichnete so im letzten Jahr einen Umsatz von 33 Milliarden US-Dollar bei mehr als 3800 Geschäften und mehr als 230.000 Mitarbeitern.
Trotz der beachtlichen Größe ist das durchschnittliche jährliche Umsatzwachstum der letzten 5 Jahre bei knappen 6.4% durchaus beachtlich. Ausgezeichnet wird der Konzern allerdings nicht durch sein Wachstum sondern vielmehr die Rentabilität und die operativen Margen, wobei sowohl die Gesamtkapitalrentabilität mit 18% hervorragend ist als auch die Margen von 11.5% keine Wünsche offen lassen.
Im Gegensatz zu dem größten Konkurrenten Ross Stores ist TJX recht gut diversifiziert, was mit Sicherheit auch die langfristigen Wachstumsaussichten etwas verbessert.
Das Pay-Out-Ratio halte ich aktuell für durchaus gerechtfertigt, da sowohl noch Wachstumschancen bestehen und auch aus Sicht der Rentabilität kann es sich das Unternehmen durchaus leisten, die eigenen Gewinne zu großen Teilen zu reinvestieren.
Finanziell ist das Unternehmen grundsolide aufgestellt, wobei ich aufgrund der geringen zyklischen Anfälligkeit ohnehin keine großen Risiken einer möglichen Zahlungsunfähigkeit des Unternehmens sehe.
Alles in allem ist die TJX Companies Inc. ein qualitativ hochwertiger Konzern, aus welchem Grund ich die aktuell recht niedrige Preissetzung nicht wirklich verstehen kann und mir das Unternehmen in nächster Zeit genauer ansehen werde.