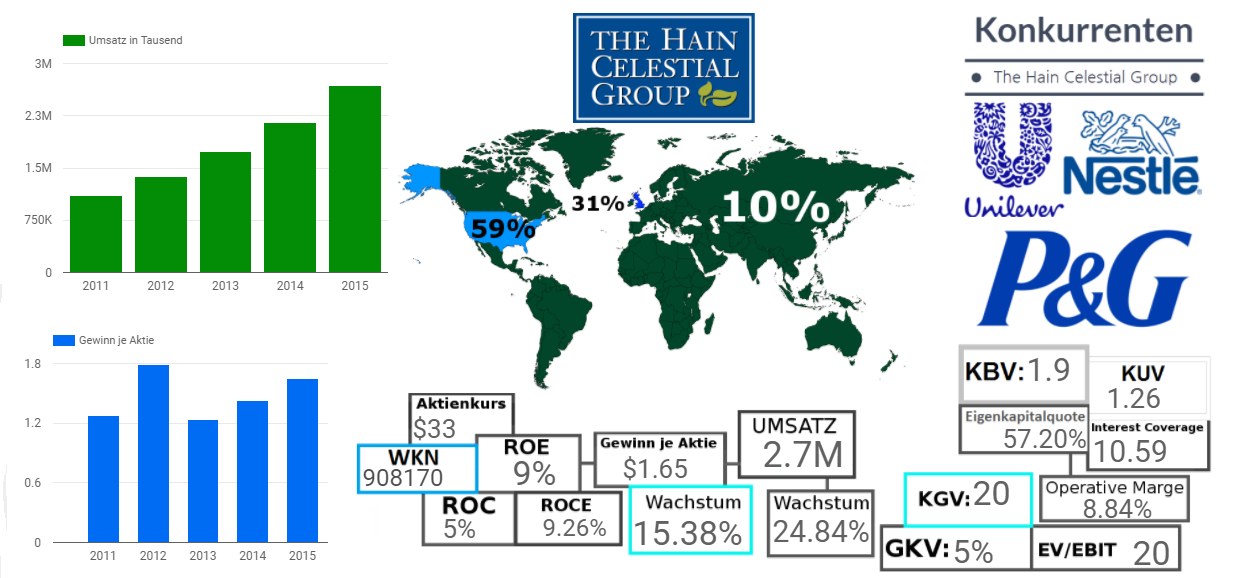 The Hain Celestial Group
Die Hain Celestial Group, Inc. produziert, vermarktet und distribuiert biologische und natürliche Produkte unter verschiedensten Marken welche alle die gleiche Botschaft "Besser für dich" verkörpern und auf Kunden mit Ambitionen gesünder zu leben ausgerichtet sind.
Das Unternehmen ist mit seinen Produkten bzw. Marken der führende Anbieter in vielen Bereichen, wobei zu diesen Marken unter anderem Almond Dream®, Arrowhead Mills®, Bearitos®, BluePrint®, Celestial Seasonings®, Cully & Sully®, Danival®, DeBoles®, Earth's Best®, Ella's Kitchen®, Empire®, Europe's Best®, Farmhouse Fare®, Frank Cooper's®, FreeBird®, Gale's®, Garden of Eatin'®, GG UniqueFiberTM, Hain Pure Foods®, Hartley's®, Health Valley®, Imagine®, Johnson's Juice Co.®, Joya®, Kosher Valley®, Lima®, MaraNatha®, Natumi®, New Covent Garden Soup Co.®, Plainville Farms®, Rice Dream®, Robertson's®, Rudi's Gluten-Free Bakery®, Rudi's Organic Bakery®, Sensible Portions®, Spectrum®, Spectrum Essentials®, Soy Dream®, Sun-Pat®, SunSpire®, Terra®, The Greek Gods®, Tilda®, Walnut Acres®, WestSoy® und Yves Veggie Cuisine® gehören.
Neben diesen Marken unter welchen ausschließlich Lebensmittel verkauft werden hat das Unternehmen auch ein recht breites Portfolio an Marken welche Pflegeprodukte verkaufen. Dazu gehören unter anderem Alba Botanica®, Avalon Organics®, Earth's Best® oder auch Live Clean®.
Das Unternehmen positioniert sich mit seinen Marken in unterschiedlichen Bereichen der Nahrungsmittel- und Pflegeindustrie:
Lebensmittel, in diesem Bereich bietet das Unternehmen verschiedenste Produkte reichend von Baby-Nahrung über Nudeln, Müslis und Brot bis hin zu Schokolade, Tiefkühlprodukten und Jogurt.
Snacks, in diesem Bereich verkauft das Unternehmen eine Varietät an verschiedenen teils auch exotischen Chips, Popcorn oder auch Nachos.
Tee, in diesem Segment ist das Unternehmen der führende Produzent und Vermarkter von Spezialtees, wobei der Konzern mehr als 70 verschiedene Arten von grünen, schwarzen, Wellness- und Kräutertees. Neben traditionellem Tee in Beutelform verkauft das Unternehmen auch dazu passende fertige Getränke wie Chai-Tee in Bechern.
Persönliche Pflege, in diesem Segment verkauft das Unternehmen diverse Produkte zur persönlichen Pflege angefangen bei Deos über Hautpflegeprodukte bis hin zu Zahnpflegeprodukten und Produkte gegen Akne.
Hühnerfleisch und Protein Produkte, in diesem Segment produziert und vermarktet das Unternehmen Antibiotikafreie oder biologische Protein Produkte und Hühnerfleisch. Dieses Segment wird vom Unternehmen auch separat ausgewiesen und dabei als Hain Pure Protein bezeichnet.
Der Konzern produziert gut 60% seiner Produkte selbst, wobei der Rest durch unabhängige Produzenten hergestellt wird. Verkauft werden die Produkte im Grunde nur im B2B Geschäft also an Einzelhändler, Großhändler oder auch Restaurants.
Fazit - 908170
Wenn ein 35-Jähriger im Jahre 1993 in den USA bekannt gibt, dass er sich mit einem Unternehmen, welches sich auf die Produktion von gesunden Lebensmitteln konzentriert, selbstständig machen will, da er an die Zukunft von gesunder Ernährung glaubt, wird er mit absoluter Sicherheit für Verrückt abgestempelt.
So ging es wohl auch Irwin Simon dem Gründer und CEO der Hain Celestial Group, welche er in den letzten Jahren zu einem Marken-Imperium rund um gesunde Ernährung mit einem Umsatz von mehr als 2.5 Milliarden und gut 6500 Mitarbeitern aufgebaut hat.
Das Unternehmen ist mit seinen starken Marken enorm gut im Markt für gesunde Lebensmittel positioniert und kann trotz der enorm starken Konkurrenz recht ordentliche Margen aufweisen.
Mit einem durchschnittlichen jährlichen Wachstum von 25% in den letzten 5 Jahren, ist das Unternehmen eines der wohl wachstumsstärksten großen Unternehmen im Lebensmittelbereich.
Leider hat dieses Wachstum unter anderem auch einen etwas negativen Auslöser und zwar Akquisitionen: Wie schon oft betont stehe ich Akquisitionen grundsätzlich etwas skeptisch gegenüber, da sie in der Regel schlicht und einfach zu teuer sind. Sollte ein Unternehmen aber trotz Akquisitionen rentabel arbeiten, so akzeptiere ich auch eine Akquisitionsstrategie, da diese ja durchaus Sinn macht, wenn sie auch rentabel ist.
Die Hain Celestial Group ist seit seiner Gründung so gut wie ausschließlich durch Akquisitionen gewachsen und genau das spiegelt sich nun leider auch in der Rentabilität, wobei eine Kapitalrentabilität von 5% nicht gerade das Gelbe vom Ei ist.
Nun stellt sich die Frage ob man diese Rentabilität wirklich mit Akquisitionen erklären kann und die Antwort lautet: JA!
Bereinigt man das Kapital des Unternehmens um den Goodwill, so erhält man nämlich eine Kapitalrentabilität von 9% à ohne zu teure Akquisitionen wäre das Unternehmen also durchaus rentabel.
Aktuell ist das der Konzern aber nicht und da er nicht einmal seine eigenen Kapitalkosten verdient, halte ich das Unternehmen trotz seine Gründerführung für nicht attraktiv und werde mir den Konzern weder bei der aktuellen noch einer niedrigeren Preissetzung ansehen, da die Opportunitätskosten dabei für mich zu hoch sind.