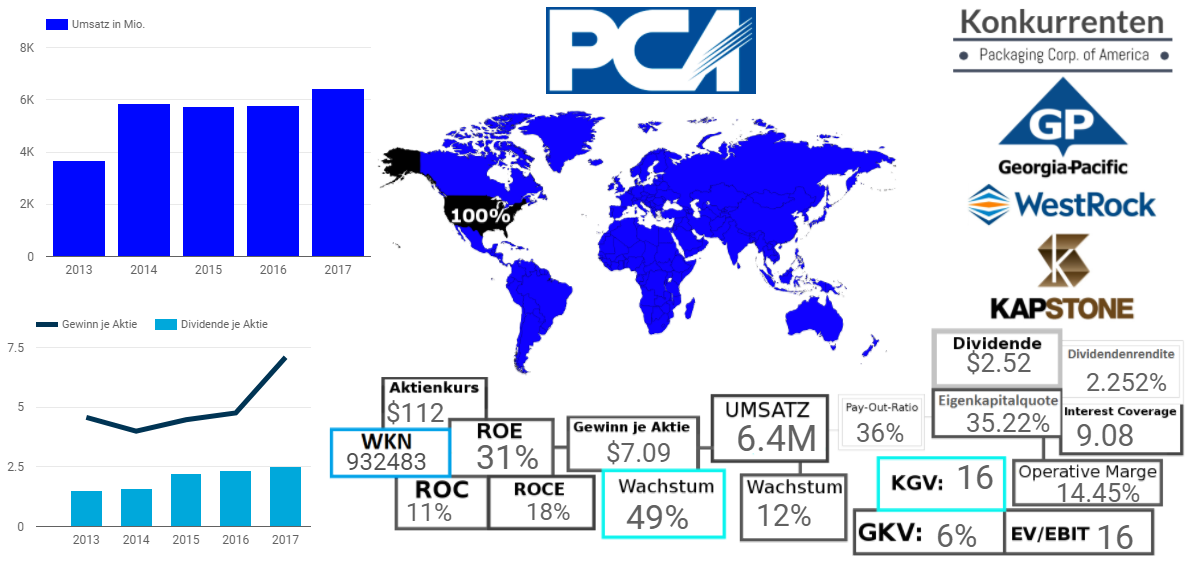 Packaging Corporation of America
Die Packaging Corporation of America ist der viertgrößte Produzent von Wellpappe und der drittgrößte Produzent von sogenanntem Uncoated Freesheet in Nordamerika und ist dabei so gut wie ausschließlich in den USA aktiv. (Unter Uncoated Freesheet versteht man eine Papiersorte mit hohem Verarbeitungsgrad, welches sehr frei von jeglichen natürlichen Unreinheiten ist und bspw. oft als Büropapier oder für offizielle Dokumente genutzt wird)
Der Konzern betreibt dabei fünf Wellpappe- und drei Papierfabriken sowie 94 Anlagen, in welchen spezielle Wellpapierprodukte produziert werden.
Der Konzern gliedert sein Geschäft dabei in die folgenden Segmente auf:
Verpackungen, in diesem Segment ist der Konzern einer der führenden Produzenten von verschiedensten Verpackungsprodukten mit speziellem Fokus auf Verpackungen aus Wellpappe. Dabei produzierte das Unternehmen im letzten Jahr (2017) gut 3.9 Millionen Tonnen Wellpappe bzw. 5.17 Milliarden Quadratmeter an Wellpappe-Produkten.
Die Produktionsfazilitäten, welche aus fünf großen Wellpappefabriken und 94 Produktionsstandorten für Wellpappeprodukte bestehen befinden sich dabei alle in den USA.
Verkauft werden die Produkte direkt an die Kunden über eigenen Vertriebsmitarbeiter sowie durch unabhängige Vertriebspartner und Distributoren, welche insgesamt mehr als 18.000 Kunden in mehr als 35.000 Standorten bedienen.
Papier, in diesem Segment produziert der Konzern verschiedene zu einem hohen Gradient verarbeitete Papiere mit speziellem Fokus auf den sogenannten Uncoated Freesheet. Verkauft werden die Produkte dabei in verschiedensten Variationen, was die Farbe, Helligkeit, den Recycling-Anteil, die Größe und einige weitere Faktoren betrifft.
Der Konzern hat dabei 3 Fabriken in den USA mit einer jährlichen Kapazität von 990.000 Tonnen. Verkauft werden die Produkte dabei vor allem durch eigene Vertriebsmitarbeiter und die hauseigenen Marketingabteilung. Bedient werden dabei mehr als 180 Kunden in ca. 500 Standorten.
Fazit - 932483
Wir schreiben das Jahr 1867 als Henry Weis im US-Bundesstaat Illinois die Papierproduktionsfirma North Star Mill ins Leben ruft, wir schreiben das Jahr 1903 als Ed Young die Kartonproduktionsfirma Ohio Boxboard Company ins Leben ruft, wir schreiben das Jahr 1931 als die Central Fiber Products Company durch einen Zusammenschluss der North Star Mill und einigen anderen Papierproduktionsunternehmen ins Leben gerufen wird.
1959 schlossen sich diese drei Unternehmen schließlich zur Packaging Corporation of America zusammen, welche 41 Jahre später am vierten Februar 2000 an die Börse ging und heute eines der führenden Papier- und Verpackungsunternehmen der USA mit mehr als 14.500 Mitarbeitern und einem Umsatz von mehr als 6.4 Milliarden US-Dollar im Jahre 2017 darstellt.
Dabei wächst der Konzern, nicht zuletzt auch durch Akquisitionen, recht stark, so lag das durchschnittliche jährliche Umsatzwachstum der letzten 5 Jahre bei gut 17%, wobei allerdings auch angemerkt werden muss, dass darin ein Wachstum von 60% zwischen 2013 und 2014 inkludiert ist, welches hauptsächlich durch eine große Akquisition zu Stande kam, die organische Wachstumsstärke des Konzernes liegt also deutlich unter dem Wert von 17% und stellt wohl eher eine reale Stagnation dar.
(Bei der großen Akquisition handelte es sich um die 2.1 Milliarden schwere Übernahme der Boise Inc., welche gleichzeitig den Grundstein für das Papier-Segment des Unternehmens legte)
Trotz der nun ausführlich erläuterten aggressiven Akquisitionspolitik des Konzernes überrascht mich die Gesamtkapitalrentabilität, welche mit gut 11% einen sehr starken Wert darstellt und von klugen Investments zeugt, wobei ich auf dieser Basis auch die Übernahmepolitik des Konzernes unterstütze welche sich generell durch eher niedrige Goodwill-Werte und sehr fundamentale Bewertungen auszeichnet.
Ebenso wie die Rentabilität des Unternehmens kann sich auch die Effizienz, Marktposition sowie Preissetzungsmacht sehen lassen, welche sich durch die operative Marge von 14.5% auszeichnen.
Die aktuelle Ausschüttungspolitik halte ich entsprechend des Wachstums als auch der Rentabilität für akzeptabel, da ich ein gutes Gefühl damit habe, wie das Unternehmen das Kapital der Aktionäre investiert.
Ein weniger gutes Gefühl habe ich allerdings bei der finanziellen Aufstellung des Konzernes, wobei schon die Eigenkapitalquote von 35% keinen Spitzenwert und das Interest Coverage von gerade einmal 9 einen durchaus risikolastigen Grenzwert darstellt.
Auf Basis all dieser Daten halte ich die Packaging Corporation of America für grundsätzlich attraktiv, wobei ich auch die aktuelle Preissetzung, insofern der Konzern seine Wachstumsstrategie weiterhin so erfolgreich weiterführen kann, für durchaus günstig halte. Aktuell stellt für mich aber die finanzielle Aufstellung einen Deal-Breaker dar, weil ich diese in Kombination mit einer sehr akquisitiven Wachstumsstrategie für nicht akzeptabel und zu risikoreich halte.