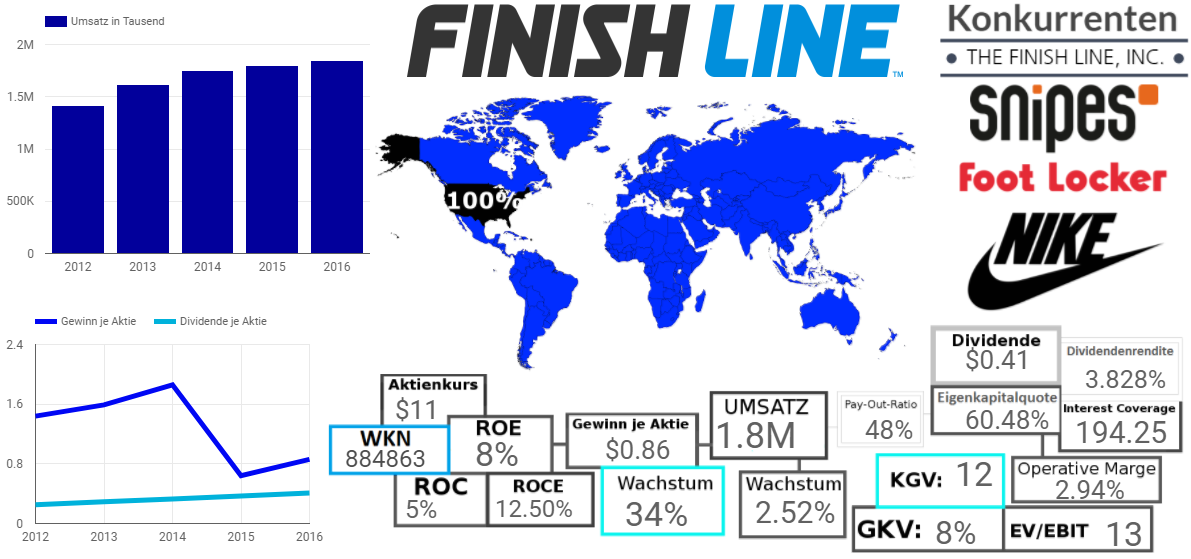 Finish Line Inc.
Die THE FINISH LINE, INC. ist einer der führenden spezialisierten Einzelhändler der USA. Die Spezialisierung des Unternehmens liegt dabei in sportlichen Marken-Schuhen, Kleidung und Accessoires, wobei die wichtigsten Marken Nike, adidas, Under Armour sowie Puma sind und der Verkauf von Schuhen für 93% der Umsätze sorgte.
Die Hauptzielgruppe des Unternehmens sind dabei sowohl Männer als auch Frauen im Alter von 18-29 Jahren.
Stand April 2017 betreibt das Unternehmen 573 Geschäfte, mit einer durchschnittlichen Größe von 517 Quadratmetern, unter der Marke Finish Line in 44 US-Staaten und Puerto Rico. Neben diesen Geschäften betreibt der Konzern auch einen Online Shop der Marke Finish Line, sowie eine Shopping Applikation für mobile Endgeräte.
Dazu ist das Unternehmen noch der exklusive Einzelhändler von Sportschuhen in Macy's Kaufhäusern. Dabei betreibt der Konzern sowohl eigene Geschäfte in den Macy's Kaufhäusern, aber kümmert sich auch um das Inventar, die Preissetzung sowie die Logistik in Sportschuh-Shops die sich ohne spezielle Marke in Macy's Kaufhäusern befinden, ein etwas anderes Sortiment und eine andere (ältere 30-50 Jahre) Zielgruppe haben.
Stand April 2017 betreibt das Unternehmen 374 Finish Line Geschäfte in Macys Kaufhäusern.
Insgesamt betreibt der Konzern also Stand April 2017, 947 Geschäfte unter der Marke Finish Line in den USA und Puerto Rico.
Die Wertschöpfung der Finish Line Inc. liegt dabei immer in der Auswahl und dem Anbieten eines passenden Sortiments für die Kunden und nicht in der Eigenproduktion von Schuhen oder Ähnlichem.
Fazit - 884863
1976 taten sich die Freunde Alan Cohen, David Klapper sowie John Domont zusammen um die neusten Styles von Sportschuhen in einem Geschäft zu verbinden. Als sie mitbekamen, dass ihre Idee in Form des Franchise-Unternehmens The Athletes Foot (TAF) schon existierte, kauften sie die Franchise-Rechte für ihren Heimatsbundesstaat Indiana. 1986 wurden schließlich alle TAF Geschäfte in Finish Line umbenannt, 1991 wird der hundertste Store der Finish Line Inc. eröffnet und die 100 Millionen Umsatzmarke geknackt, woraufhin ein Jahr später der Börsengang folgt.
Seither hat sich das Unternehmen stark entwickelt und gilt heute mit gut 12,700 Mitarbeitern, welche im letzten Jahr einen Umsatz von mehr als 1.8 Milliarden US-Dollar erwirtschafteten, stark entwickelt und ist einer der führenden Einzelhändler von Sportartikeln in den USA.
Anm.: Aufgrund des Verkaufes einer Division des Unternehmens im Fiskaljahr und einiger Sondereffekte aus der Schließung von Geschäften, schrieb der Konzern im Jahr 2016 einen Verlust. Für meine Analyse habe ich daher den Gewinn der weitergeführten Operationen verwendet (also sozusagen den Gewinn ohne Einberechnung der Verluste, der durch den Verkauf alter Geschäftsbereiche entstand), was ein besseres Bild der wirklichen Ertragslage des Konzernes im jeweiligen Zeitpunkt und damit auch für die Zukunft gibt.
Wachstumsmäßig sieht es bi dem Konzern in den letzten Jahren eher etwas trüber und teils sogar negativ aus, so liegt das jährliche durchschnittliche Umsatzwachstum der letzten 5 Jahre zwar bei gut 7%, in den letzten 2 Jahren lag das Wachstum aber immer unter 3% und die Anzahl an Geschäften ist seit 2014 auch leicht rückläufig, wobei ich diesen Faktor aufgrund der dennoch steigenden Umsätze als gar nicht so schlecht erachte, da die Effizienz durch die Schließung wenig produktiver Geschäfte (auf den die konträre Entwicklung von Umsatz und Geschäften ja hindeutet), ja insgesamt gesteigert wird.
Positiv ist hier noch zu ergänzen, dass der Konzerne eine ordentliche finanzielle Stabilität aufweist, welche sich durch das Interest Coverage von fast 200 sowie die Eigenkapitalquote von mehr als 60% auszeichnet, und auch gewisse zyklische bzw. anderweitige wirtschaftliche Rückschläge aushalten wird.
Leider ist die finanzielle Stabilität aber einer der einzigen positiv zu nennenden Faktoren, wenn man auf die aktuellen Zahlen des Konzernes blickt, so liegt die Gesamtkapitalrentabilität bei gerade einmal 5% und die operative Marge von 3% zeugt von keiner starken Marktposition bzw. einem schwachen/nicht vorhandenen Burggraben.
Die Ausschüttungspolitik kann ich vor diesem Hintergrund dann natürlich auch nicht unterstützen, wobei ich denke, dass das Kapital der Aktionäre, bei der Finish Line Inc. nicht wirklich gut aufgehoben ist, weshalb ich ein Pay-Out-Ratio in Richtung und möglichst nah der 100% Marke für wünschenswert achte.
Auch die niedrige Preissetzung kann mein Bild hier nicht ändern und macht den Konzern meines Erachtens nicht attraktiver, da die Opportunitätskosten für ein Investment, aufgrund der schwachen fundamentalen Lage, selbst bei einem günstigen Aktienkurs, zu hoch sind.
Insofern es also nicht zu einem substantiellen Strategiewechsel bei dem Unternehmen kommt, sehe ich in der Finish Line Inc. nicht viel Zukunft welche aus Seiten der Qualität von Marken wie Snipes und vom Preis her von Playern wie Amazon langfristig zerstört werden wird.