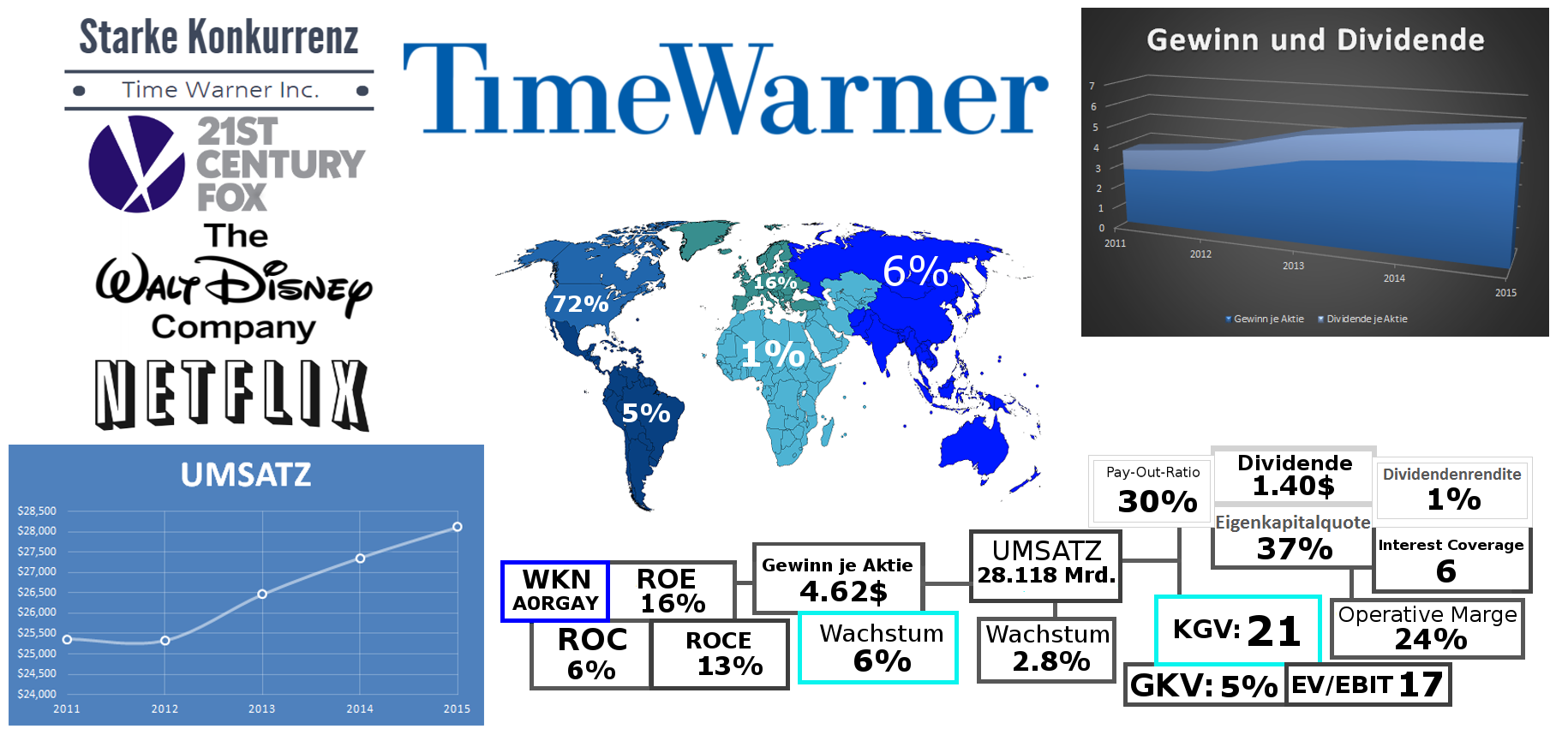 Time Warner Inc.
Time Warner ist eine der weltweit führenden Media und Unterhaltungsunternehmen. Der Konzern gliedert seine Geschäftstätigkeiten in drei Segmente ein:
Turner, dieses Segment setzt sich aus Kabelnetzwerken und digitalen Vermögenswerten zusammen.
Home Box Office, dieses Segment besteht aus Premium-Bezahlungsfernsehen und Streaming Dienstleistungen in Amerika sowie International.
Warner Bros. , dieses Segment besteht – wie vielen wahrscheinlich bekannt - aus TV, Film, Home-Video und Videospiel Produktion bzw. Distribution.
Turner, dieses Segment bietet den Kunden rund um die Welt eine weitere Varietät an Unterhaltungs-, Sport, Kinder und Nachrichten Programmen auf TV- sowie digitalen Plattformen. Turner betreibt weltweit mehr als 180 Kanäle. In den USA gehören dem Unternehmen unter anderem die Netzwerke
TNT, TBS, Adult Swim, truTV, Turner Classic Movies, Turner Sports, Cartoon Network, Boomerang, CNN und HLN. Zu den digitalen Vermögenswerten zählen unter anderem bleacherreport.com (eine sehr große Sportseite) und das CNN Digital Network und einige mehr was schlussendlich zu ca. 115 Millionen monatlichen einzigartigen Besuchern führt. Das Unternehmen erreicht mit seinem Angebot Kunden in mehr als 200 Ländern.
Home Box Office, besitzt und betreibt die beiden führenden Multichannel Premium-Bezahlungs-TV Dienstleister HBO und Cinemax. Das Geschäft des Unternehmens setzt sich aus Premium-Bezahlungs-TV Dienstleistungen und HBO NOW Streaming (einem Service wie Netflix) sowie Content-Lizensierung zusammen. Das Unternehmen fokussiert sich aktuell sehr stark darauf, die Varietät der Programme noch zu verstärken umso noch mehr Kunden anzusprechen und die Dienstleistungen und Produkte des Unternehmens attraktiver zu machen. Dabei liegt die Priorisierung wiederum darauf die Produkte für Kunden welche ON-Demand Dienstleistungen auf nicht traditionellen Geräten (wie Smartphones, Tablets, …) schauen.
Zusätzlich zu Plattformen auf denen das Unternehmen originale und drittparteiische Inhalte direkt an den Mann bzw. die Kunden bringt lizensiert das Unternehmen manche der originalen Inhalte an Amazon Prime. Daher gehend sind die originalen Inhalte des Unternehmens in 150 Ländern für Kunden erhältlich und zwar sowohl durch die Lizensierung an internationale TV Netzwerke und eben Streaming Services als auch den Verkauf der originalen Inhalte in physischem und digitalen Format an Kunden rund um den Globus.
Zu den originalen Inhalten des Unternehmens (welcher ein immer größerer Teil des Geschäftes werden) gehören unter andere, Preisgekörnte Drama und Komödien Inhalte wie Game of Thrones, Girls, The Leftovers, Last Week Tonight with John Oliver, Silicon Valley, True Detective und Veep.
Warner Bros. Entertainment Inc. ist das größte TV und Filmstudio der Welt insofern man größte mit Umsatz definiert. Die Geschäftstätigkeit besteht im Grunde aus der Produktion, Distribution und Lizensierung von TV-Programmen und Filmen sowie der Produktion von Videospielen, Konsumprodukten und dem Lizensieren von Marken.
Das Unternehmen ist der führende Produzent von Primetime TV in den USA, was durch die Produktion von mehr als 30 Serien zu Stande kommt. Diese Position hält das Unternehmen übrigens schon seit 13 Jahren wobei es sich in einem Jahr auf den zweiten Platz begeben musste.
Die insgesamt 60 TV Serien die das Unternehmen im letzten Jahr für die USA produzierte werden an Unternehmen in mehr als 190 Ländern lizensiert.
Zusätzlich ist das Unternehmen der drittgrößte Videospielverlag in den USA wobei die beiden Spiele Mortal Kombat X und Batman: Arkham Knight zu den Top-Zehn Videospielen in 2015 zählen. Zusätzlich zu all diesen Aktivitäten hat das Unternehmen enorme Vermögenswerte in Form von Marken wie Batman, the Flash, Green Arrow, Superman, Wonder Woman, Harry Potter, Bugs Bunny, Scooby-Doom, Tom and Jerry und viele mehr.
Zu den TV-Serien des Unternehmens gehören unter anderem 2 Broke Girls, Arrow, The Big Bang Theory, Blindspot, DC's Legends of Tomorrow, The Flash, Gotham, Lucifer, The Middle, Mike & Molly, Mom, Person of Interest, Rush Hour, Supergirl, Childrens Hospital, Major Crimes, Pretty Little Liars(eine Serie welche vor allem im Segment der 14-18 jährigen Jugendlichen enormen Anklang findet) oder auch Rizzoli & Isles.
Zwischen den einzelnen Segmenten des Unternehmens herrschen enorme Synergien. So können Produktionskapazitäten und Vermögenswerte gemeinsam genutzt werden oder die Produktionen selbst durch die diversen Distributionsplattformen profitieren.
Fazit - A0RGAY
Die in den USA gegründete Time Warner Inc. Ist eines der größten Unterhaltungsunternehmen dieser Welt. Der Umsatz des Unternehmens verteilt sich zwar international ist aber doch sehr USA lastig, was einen potentiellen Wachstumsfaktor für die nächsten Jahre darstellt. Das Unternehmen hat zwar starke Konkurrenten schafft es aber immer wieder Programme zu erschaffen, die die Zuschauer begeistern.
Grundsätzlich muss man zwar sagen, dass vor allem das TV Segment in den nächsten Jahren immer weiter an Bedeutung verlieren wird, doch die Aufmerksamkeit die vom traditionellen TV weg geht kommt wieder auf anderen Plattformen zu tragen und auch auf bzw. in dessen ist das Unternehmen mit einigen der beliebtesten und bekanntesten Angebote vertreten. Das Unternehmen ist zwar nicht gerade eine Wachstumsaktie weist aber durchaus einen stabilen Umsatzanstieg auf und auch die Dividende sowie der Gewinn steigen gelichmäßig an. Allerdings bin ich langfristig enorm bullisch auf den Unterhaltungsmarkt und sehe in diesem Markt enorme Wachstumspotentiale weshalb ich denke, dass sich das Wachstum langfristig noch erhöhen wird.
Die Rentabilität des Unternehmens befindet sich im unteren Bereich des Akzeptablen. Das Unternehmen ist etwas hoch verschuldet ich denke aber, dass die zyklische Anfälligkeit sich in Grenzen halten wird, da die Produkte des Unternehmens keine wirklich großen Positionen auf den Ausgabelisten der Konsumenten darstellen.
Vor diesem Hintergrund finde ich die Preissetzung recht in Ordnung und werde mir das Unternehmen genauer ansehen doch die Dividende müsste dringend erhöht werden, da eine Ausschüttungsquote von 30% bei einer Kapitalrentabilität von 6% meiner Ansicht nach nicht gerade vernünftig ist.
Die Unterhaltungsbranche
Artificial Intelligence, Big Data, Deep Learning – die Buzzwords sind uns allen bekannt. Die Auswirkungen sind für mich in gewisser Hinsicht klar. Es wird nicht mehr lange dauern bis Maschinen die Intelligenz der Menschen übersteigen.
In der industriellen Revolution hies es zwar auch die Menschen werden keine Arbeit mehr haben aber diesmal ist es entscheidend anders. Die Maschinen haben nämlich bald die Fähigkeit die den Menschen so lange überlegen machte – die Intelligenz.
Allerdings sehe ich diese Fakten nicht so negativ wie die meisten Menschen und beteilige mich lieber an der Branche die vom Berufsverlust eines großen Teiles der Erde profitieren wird – die Unterhaltungsbranche. Nicht die Maschinen nehmen uns die Arbeit weg sondern die Maschinen erledigen die Arbeit für uns und wir können machen was immer wir wollen.
Diese ganze Entwicklung wird die Unterhaltungsbranche nämlich nicht nur in Entwicklungsländer bringen sondern auch den Konsum bei uns in den reichen Ländern noch weiter steigern. Aus diesen Gründen bin ich enorm bullisch auf die langfristige Entwicklung der Unterhaltungsbranche.