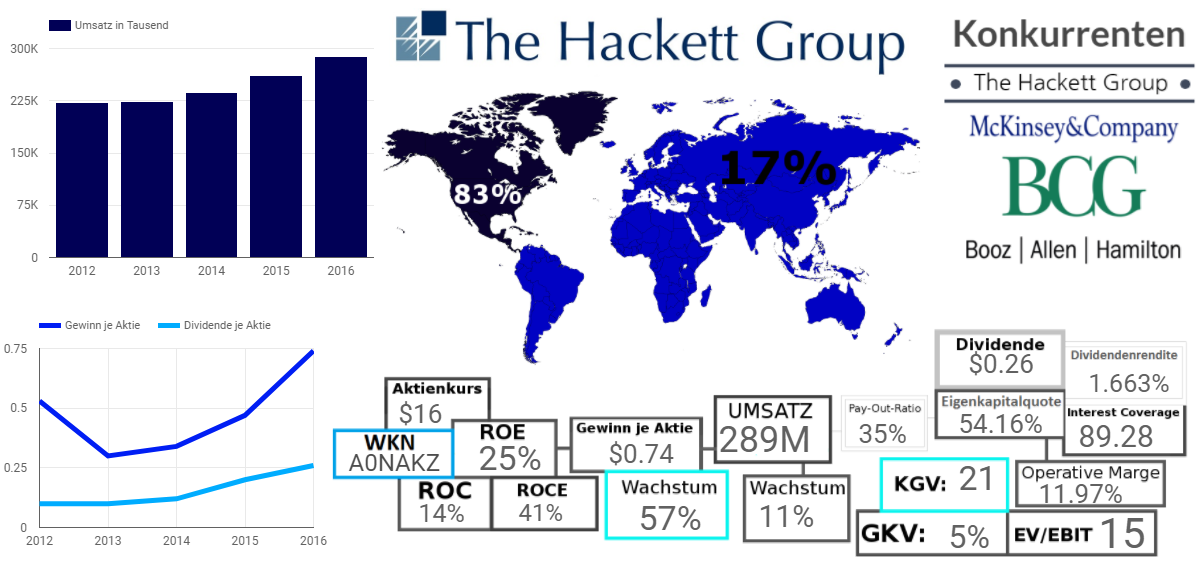 The Hackett Group, Inc.
Die The Hackett Group, Inc. ist ein international aktives B2B Beratungsunternehmen, welches Unternehmen in den verschiedensten Geschäftsfeldern und dabei wiederum in den verschiedensten Geschäftsbereichen unterstützt.
Dabei legt das Unternehmen großen Wert auf die Eigenforschung, wobei es Prozesse bei den verschiedensten Unternehmen erforscht und daraus dann Best-Practices ableitet. Mit diesen Best-Practices berät die Gruppe dann die Kunden in den verschiedensten Bereichen vom Thema, wie man das Unternehmen bestmöglich auf die Digitalisierung anpasst bis hin zu Effizienzsteigerungen im Verwaltungsprozess.
Dabei ist die Forschung der klare USP des Konzernes, welcher mehr als 13.000 Studien mit den meisten weltweit bekannten Unternehmen durchgeführt hat, darunter 87% aller Dax- und Fortune 100 Konzerne.
Der Bereich in welchem Best-Practices identifiziert und in den jeweiligen Unternehmen implementiert werden wird dabei als Benchmarking bezeichnet.
Verbunden mit den Erkenntnissen aus dem Benchmarking Bereich betreibt, der Konzern den Geschäfts-Transformationsbereich in welchem mit den Kunden gemeinsam klare Pläne und Strategien ausgearbeitet werden, wie man die Leistung über das ganze Unternehmen hinweg verbessern/erhöhen kann.
Ein weiterer Bereich, in welchem es sich vor allem um Daten dreht ist der, der Geschäftsintelligenz, in welchem die Gruppe den Kunden dabei hilft die eigenen Daten auszuwerten bzw. diesen zeigt, wie sie mit den Daten umgehen und was sie mit ihnen anfangen können.
Schließlich betreibt das Unternehmen noch einen Bereich der den Titel "Geschäfts-Ressourcen-Planung" (GRP) trägt. Dieser dreht sich vor allem um das Thema IT, wobei Hackett hier vor allem Kunden im Bereich der Medikamente- und Konsumgüterindustrie dahingehend berät, wie man Ressourcen durch das Implementieren neuer Technologien besser managen kann. Im Grunde vertreibt die Gruppe in diesem Bereich nur SAP-Produkte, man könnte es also als Zubrot durch den Verkauf und die damit einhergehenden Provisionen von SAP-Software bezeichnen.
Das Unternehmen selbst gliedert sein Geschäft nun in zwei Segmente auf: Hackett-Gruppe, in diesem Segment befinden sich alle Bereiche vom Benchmarking bis zur Geschäftsintelligenz; GRP, in diesem Segment befindet sich der Bereich des (SAP) Software-Vertriebes.
Fazit - A0NAKZ
1997 gründete der damals 40 Jährige Ted A. Fernandez, welcher zuvor bei KPMG eine recht traditionelle, wenn auch durchaus erfolgreiche Karriere hingelegt hatte, sein erstes Start-UP: die Answerthink Inc. Dabei kaufte er im Zuge der Gründung die 1991 gegründete Hackett Group Inc. und ging 1 Jahr später mit der Answerthink Inc. an die Börse, welche 2008 wieder zu Hackett Group Inc. umbenannt wurde.
Das Modell des Unternehmers ging auf und er konnte sich trotz des enorm starken Wettbewerbs im Bereich der Beratungsfirmen durchsetzen und zählt heute mit einem Umsatz von gut 289 Millionen US-Dollar zu den führenden Beratungsunternehmen der USA. Der Gründer Ted A. Fernandez ist auch heute noch größter Aktionär, Geschäftsführer und Aufsichtsratsvorsitzender.
Mit einem durchschnittlichen jährlichen Umsatzwachstum von 7%, bezogen auf die letzten 5 Jahre, ist die Hackett Group, zwar kein sehr wachstumsstarker aber doch ein recht wachstumssolider Konzern, wobei sich hier vor allem international in Zukunft meines Erachtens nach durchaus noch Möglichkeiten bieten eine weitere Expansion voranzutreiben.
Die Effizienz der Gruppe ist dabei stark sowohl aus Sicht der Rentabilität mit einem ROC von 14% als auch aus Sicht der Margen mit einer OM von gut 12%.
Finanziell ist der Konzern dabei grundsolide, was sich sowohl in einer hohen Eigenkapitalquote, als auch in einem hohen Interest Coverage wiederspiegelt, wobei ich hier entsprechend kein Risiko sehe.
Das Pay-Out-Ratio halte ich vor dem Hintergrund all dieser Zahlen für in Ordnung, da der Konzern das Kapital der Investoren selbst sehr rentabel anlegen kann und mit Blick auf das Wachstum auch genügend Möglichkeiten hat, dies zu tun.
Die Preissetzung halte ich aktuell für fair, aufgrund des Wachstums aber nicht für attraktiv, aus welchem Grund ich mir das Unternehmen bei der aktuellen Preissetzung nicht genauer ansehen werde, bei einem Kursrückgang aber auf jeden Fall eine genauere Analyse, dieses qualitativ starken Beratungsunternehmen in Betracht ziehe.