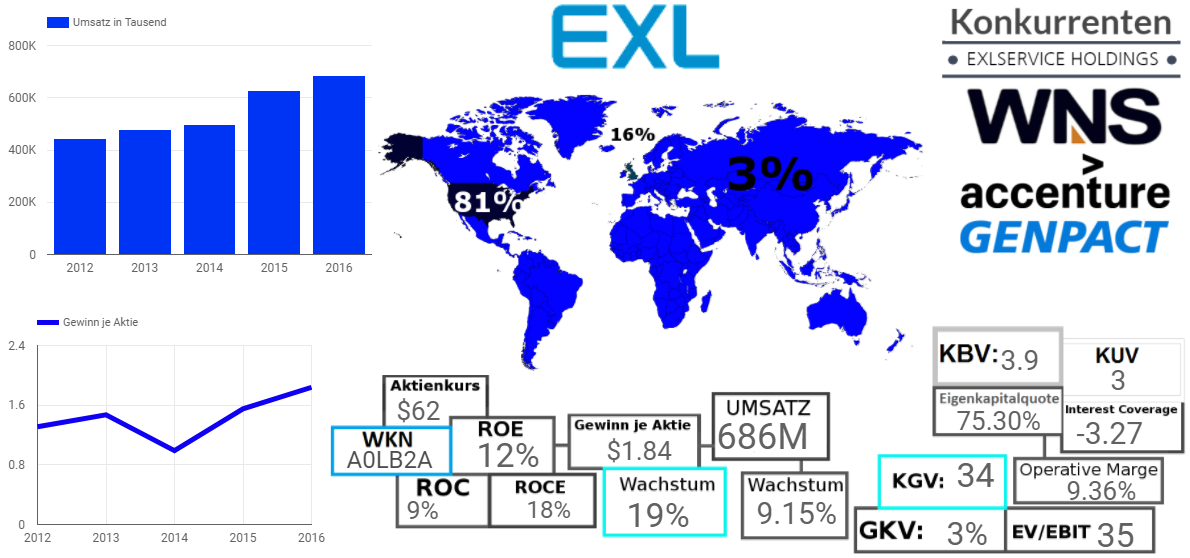 EXLSERVICE HOLDINGS, INC.
Die EXLSERVICE HOLDINGS, INC. ist eine der weltweit führenden Operations-Management und Analytik Firmen, welche die Kunden dahingehend berät das Wachstum zu beschleunigen bzw. die Profitabilität zu erhöhen.
Das Unternehmen bedient Kunden in verschiedensten Industrien und gliedert sein Geschäft auch im Groben nach den verschiedenen Kundenindustrien auf. Dabei ist der Bereich des Operationsmanagement der größte, welcher sich in fünf Untersegmente gliedert, das Segment der Analytik gliedert sich hingegen in keine Untersegmente mehr auf.
Beim Operationsmanagement (OPM) läuft das Ganze so ab, dass der Kunde EXL einen Bereich des Geschäftes wie bspw. das Verarbeiten finanzieller Transaktionen oder das Verwalten von Rechnungen und Ähnlichem übergibt, und EXL diese dann auf einer fortlaufenden Basis managet. Es gibt aber auch den Fall, in welchem EXL die Kunden nur berät und nicht praktisch eingreift.
Im Bereich der Analytik geht es hingegen darum, dass EXL den Kunden hilft die eigenen Daten auszuwerten und zu interpretieren, um daraus praktische Verbesserungspotentiale abzuleiten.
Nun noch etwas zur Segmentaufgliederung des Unternehmens:
Versicherung, in diesem Segment befindet sich das OPM-Geschäft des Unternehmens im Bereich der Versicherungsindustrie, dabei handelt es sich hier nur um branchenspezifische Tätigkeiten.
Gesundheitspflege, in diesem Segment betreibt EXL Tätigkeiten des operativen Managements im Bereich der Gesundheitspflege, wobei es sich auch wieder ausschließlich um branchenspezifische Tätigkeiten handelt.
Reisen, Transport und Logistik (RTL), in diesem Segment befindet sich das spezifische OPM-Geschäft des Konzerns im Bereich der Reise-, Transports- und Logistikindustrie.
Finanzen und Buchhaltung (F&B), in diesem Segment bedient das Unternehmen in diversen Industrien mit Dienstleistungen rund um Finanzen und Buchhaltung.
Anderes, in diesem Segment befinden sich zum einen die ausschließlichen Beratungsleistungen des Konzernes und zum anderen OPM-Leistungen die nicht branchenspezifisch sind sondern sich vor allem auf das Verbessern des Kundenkontaktes fokussieren.
Analytik, in diesem Segment befindet sich das gesamte Analytik-Geschäft des Unternehmens in den verschiedensten Industrien.
Der Großteil der 26.000 Mitarbeiter des Unternehmens befindet sich in Indien (18.000) und den Philippinen (4.600), wodurch der Konzern operative Bereiche sehr kostengünstig übernehmen kann.
Fazit - A0LB2A
Eigentlich schlug der Inder Vikram Talwar einen recht traditionellen Weg ein, holte sich zuerst seinen MBA an einer indischen Universität und migrierte dann mit 25 nach San Francisco, wo er bei der Bank of America lange Zeit in den verschiedensten Positionen arbeitete.
Mit 50 Jahren hatte er allerdings genug von der traditionellen Konzernkarriere und gründete gemeinsam mit Rohit Kapoor einem Bank of America Kollegen, der auch heute noch CEO des Konzernes ist, die EXL Services Holdings, Inc. ein Operationsmanagement und Analytikunternehmen.
Heute gute 11 Jahre nach dem IPO 2006 ist das Unternehmen mit 26.000 Mitarbeitern, welche im letzten Jahr einen Umsatz von mehr als 680 Millionen US-Dollar erwirtschafteten einer der führenden Konzerne im Bereich der Analytik und des Unternehmensmanagements.
Das Unternehmen ist noch recht wachstumsstark unterwegs, was für die Entwicklungsstufe der EXL Services Holdings, Inc. aber auch zu erwarten ist. Das durchschnittliche jährliche Umsatzwachstum der letzten 5 Jahre lag dabei bei 12%.
Was aber etwas überraschend ist, ist die Gesamtkapitalrentabilität, welche sich trotz einer doch recht forcierten Akquisitionspolitik mit 9% durchaus sehen lassen kann. Wobei ich die Übernahmepolitik vor diesem Hintergrund und auch vor dem Hintergrund des geringen Goodwills in der Bilanz für durchaus in Ordnung halte.
Finanziell ist der Konzern sehr stabil aufgestellt, was wohl unter anderem etwas mit der indischen Herkunft des Unternehmens zu tun hat und sich sowohl in der Eigenkapitalquote als auch dem Interest Coverage wiederspiegelt, wobei die Zinseinnahmen die Zinsausgaben sogar übersteigen.
Entsprechend meiner durchwegs optimistischen und positiven Einschätzung von EXL notiert die ganze Geschichte auch unter einem recht stolzen Preis an der Nasdaq.
Alles in allem halte ich diesen stolzen Preis mit einem EV/EBIT von 35 dennoch für zu hoch und werde mir das Unternehmen bei der aktuellen Preissetzung darum nicht genauer ansehen. Da ich den Konzern aber aus qualitativen Gesichtspunkten für sehr attraktiv halte, so werde ich bei einem Preisrückgang durchaus einmal einen genaueren Blick auf das EXL werfen.