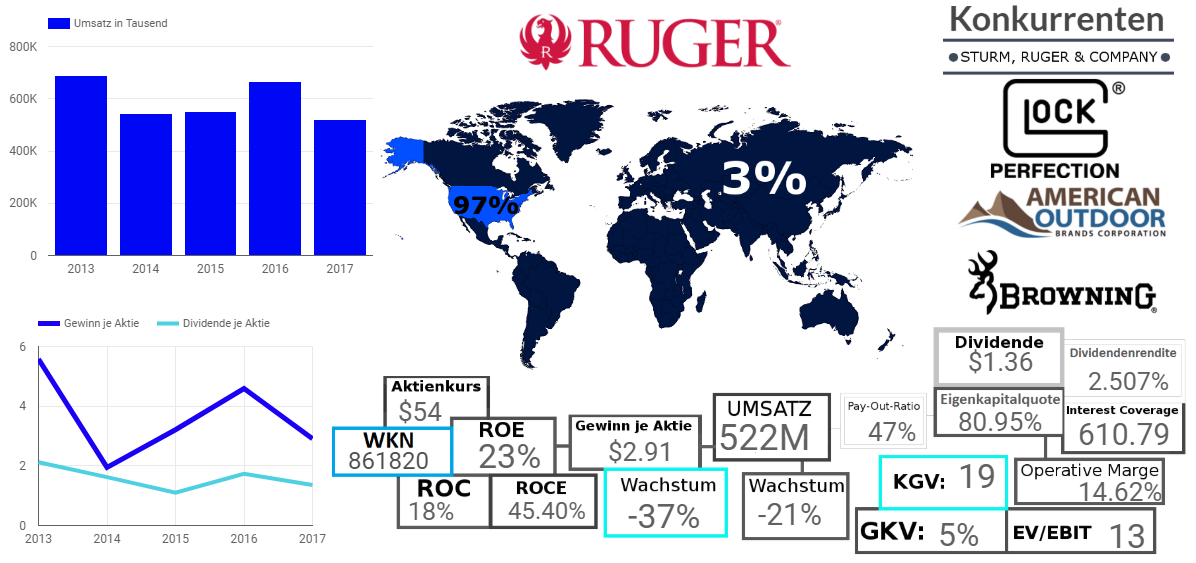 STURM, RUGER & COMPANY, INC.
Die STURM, RUGER & COMPANY, INC. ist einer der führenden US-amerikanischen Produzenten, Entwickler und Verkäufer von Waffen. Das Unternehmen bietet seine Produkte vor allem in den USA an, wo es auch alle Waffen entwickelt bzw. produziert.
Das Unternehmen gliedert sein Produkt dabei in Gewehre, Pistolen sowie Revolver auf, welche an unabhängige Großhändler verkauft werden, welche die Produkte wiederum an Einzelhändler verkaufen, über welche die Produkte schlussendlich an den Endkunden kommen, welche die Waffen, nach Angaben des Unternehmens, primär für Sportzwecke erwerben.
Dabei hat das Unternehmen in allen drei Kategorien diverse Modelle, für die variierenden Kundenbedürfnisse.
Das Unternehmen produziert nicht nur die Waffen selbst, sondern auch die verschiedenen Gussteile, aus welchen sich die Waffen zusammensetzen. Diese Gussteile werden nicht nur für die eigenen Waffen verwendet, sondern in kleinem Ausmaß an außenstehende Kunden verkauft.
Auch bietet der Konzern zu den Waffen gehörende Accessoires sowie Ersatzteile für die Waffen, diese werden in den Umsatzzahlen zum Segment der Waffen gezählt und machen einen entsprechend eher kleinen Teil der Umsätze aus.
Fazit - 861820
Die Grundlage der heute börsennotierten Sturm, Ruger and Company wurde im Jahre 1949 gelegt als der damals 26 jährige Alex Sturm sowie sein 7 Jahre älterer Partner William B. Ruger in einem kleinen Geschäft im US-amerikanischen Bundestaat Connecticut ein Start-UP auf Basis einer von ihnen entwickelten Pistole mit Einflüssen von japanischen und deutschen Waffen gründeten. Das Unternehmen erreichte unter der Führung Rugers und trotz des frühen Todes von Alex Sturm, gerade einmal 2 Jahre nach der Gründung, schnell eine enorm starke Marktposition und ging im Jahre 1969 an die Börse.
Doch die Expansion ging auch nach dem IPO weiter, sodass der Konzern heute mit ca. 1750 Mitarbeitern, welche im letzten Jahr einen Umsatz von gut 522 Millionen US-Dollar erwirtschafteten, zu den führenden Unternehmen im Markt für Freizeitwaffen in den USA gehört.
Die Umsätze von Sturm, Ruger and Company sind enorm volatil, und das Wachstum ist im Durchschnitt der letzten 5 Jahre mit -5% sogar negativ allerdings lag das Wachstum der letzten 14 Jahre im Schnitt bei mehr als 12.7% pro Jahr, was durchaus erstaunlich ist, bedenkt man, dass der Konzern im Grunde ausschließlich in den USA aktiv ist und das nun immerhin schon seit fast 70 Jahren.
Den Margen zu Folge hat das Unternehmen außerdem eine starke Marktposition, mit einem ordentlichen Burggraben, wobei eine Operative Marge von 14.6% durchaus von einer gewissen Preismacht zeugt.
Die Rentabilität ist mit einem ROC von 18% ebenso sehr solide und auch die finanzielle Stabilität ist mit einer Eigenkapitalquote von mehr als 80% sowie einer praktisch nicht vorhandenen Zinsbelastung mehr als gegeben.
Das Pay-Out-Ratio ist vor dem Hintergrund des Wachstums vollkommen in Ordnung, allerdings missfällt mir die nicht konsistente Dividendenpolitik, bei einer doch recht positiven Geschäftsentwicklung.
Insgesamt ist das Unternehmen meines Erachtens fundamental sehr attraktiv, wobei derartige Zahlen nicht viele Konzerne erreichen. Die Umsätze und Erträge sind allerdings enorm volatil und undurchsichtig und erlauben mit dem aktuellen Wachstum keine Preissetzung mit einem KGV von 19, aus welchem Grund ich mir das Unternehmen aktuell auch nicht genauer ansehen werde.
Allerdings handelt es sich meines Erachtens durchaus um ein Unternehmen, das man sich durchaus einmal auf die Watchlist setzen kann, sollte der Kurs weiter fallen. Bedenken muss man dabei immer nur das hohe regulatorische Risiko des Sektors.