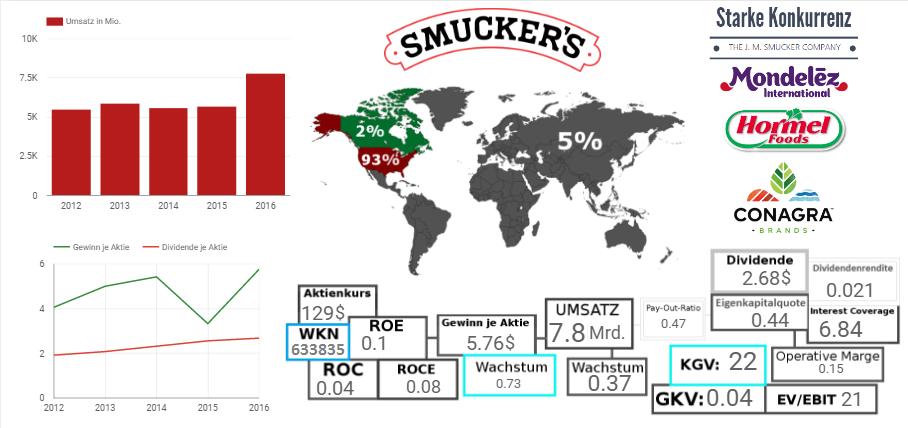 The J.M. Smucker Company
The J.M. Smucker Company ist einer der größten US-amerikanischen Produzenten und Vermarkter Markennahrung und Getränken. Der Konzern ist auf einer internationalen Basis aktiv, derGroßteil der Umsätze kommt aber aus den USA. Die Produkte des Unternehmens lassen sich Großteils auf die folgenden Kategorien einteilen: Kaffee, Tierfutter, Tiersnacks, Erdnussbutter, Fruchtaufstriche, Öle, Backmischungen, Tiefkühlsandwiches, Mehl und Backzutaten sowie Säfte und andere Getränke.
Verkauft werden die Produkte in den USA, sowohl durch eigeneVertriebsmitarbeiter als auch durch unabhängige Vermittler, an Einzelhändler, Nahrungsgroßhändler, Drogerien, Discount Stores, Tiergeschäfte oder auch an das Militär. Im internationalen Geschäft als auch im Geschäft mit Nahrungsdienstleistern werden die Produkte des Unternehmens sowohl an Einzelhändler als auch an Nahrungsdienstleister wie Restaurants, Hotels oder auch Universitäten verkauft.
U.S. Einzelhandel Kaffee, in diesem Segment verkauft das Unternehmen wie der Name schon andeutet Kaffeeprodukte an Einzelhändler bzw. über Einzelhändler an die Konsumenten. Die größten Marken des Unternehmens in diesem Segment inkludieren Folgers®, Dunkin' Donuts® und Café Bustelo®.
U.S. Einzelhandel Konsumenten Nahrung, dieses Segment inkludiert alle Nahrungsprodukte welche über die verschiedensten Vertriebskanäle an Konsumenten verkauft werden. Die wichtigsten Marken sind Jif®, Smucker's®, Crisco®, Pillsbury® und Uncrustables®
U.S. Einzelhandel Tierfutter, in diesem Segment verkauft das Unternehmen Tierfutter über verschiedenste Vertriebskanäle. Zu den wichtigsten Marken gehören Meow Mix®, Milk-Bone®, Natural Balance®, Kibbles 'n Bits®, 9Lives®, Pup-Peroni®, Nature's Recipe® und Gravy Train®
International und Nahrungsdienstleistung, in diesem Segment verkauft das Unternehmen sowohl Konsumentenprodukte und Tierfutter über Einzelhändler an internationale Endkunden als auch Produkte an Nahrungsdienstleister. Die wichtigsten Marken in diesem Segment sind Folgers, Smucker's und Douwe Egberts®.
Das Unternehmen ist enorm abhängig von seinem größten Kunden Wal-Mart, welcher für 30% des Unternehmens sorgte (Tendenz steigend). Allerdings gab es keinen anderen Kunden dessen Käufe für mehr als 10% der Umsätze sorgten, allerdings sorgten die 10 größten Kunden gemeinsam für 70% der Umsätze.
Die Produktion übernimmt das Unternehmen zum Teil selbst lagert sie aber zum Teil auch an unabhängige Dienstleister aus.
Fazit - 633835
The J.M. Smucker Company erwirtschaftet im Jahre 2016 mit ihren knapp 7000 Mitarbeitern einen Gesamtumsatz von ca. 7.8 Milliarden US-Dollar und zählt damit zu den größten Unternehmen im Lebensmittelgeschäft auch wenn es natürlich viel größer Player in diesem Markt gibt.
Das Unternehmen ist international relativ schlecht diversifiziert und generiert im Grunde den kompletten Umsatz in den USA. Der Konzern hat einige starke Marken was sich auch in den recht ordentlichen Margen widerspiegelt. Enttäuschend ist allerdings die Kapitalrentabilität welche mit gerade einmal 4% weit unter dem Branchendurchschnitt liegt.
Finanziell ist das Unternehmen recht stabil aufgestellt. Das Pay Out Ratio ist meiner Ansicht nach viel zu niedrig, da ich nicht unbedingt ein gutes Gefühl habe, wenn ein Unternehmen mein Geld mit einer derartig schlechten Rentabilität anlegt.
Da das Unternehmen in Amerika schon stark Fuß gefasst hat und in den wachsenden Märkten des Lebensmittelbereiches fast gar nicht positioniert ist, sehe ich nicht wirklich große Wachstumspotentiale.
Weiters befindet sich der bei Weitem größte Kunde Walmart nicht gerade in einer sehr guten Position, was zu Preisdruck aus dieser Richtung führt. Zwar kann es immer wieder passieren, dass es wie in diesem Jahr zu unerwarteten neuen Aufträgen von Seiten des größten Anbieters kommt, welche zu plötzlichen starken Umsatzanstiegen führen.
(Dieses Jahr stieg Wal-Mart stärker in das Hundefuttergeschäft ein und hat als einen der großen Zulieferer dafür The J.M. Smucker Company ausgewählt, was zu dem hohen Umsatzwachstum in diesem Jahr führte)
Dennoch will ich mein Investment nicht auf derartigen eher unwahrscheinlichen Möglichkeiten basieren, weshalb der Konzern für mich bei der aktuellen doch recht stolzen Preissetzung unter keinen Umständen eine weitere Analyse wert ist, wobei ich mir den Konzern höchstwahrscheinlich auch bei einer deutlich niedrigeren Preissetzung nicht weiter ansehen würde, da die Opportunitätskosten dafür einfach zu hoch sind.