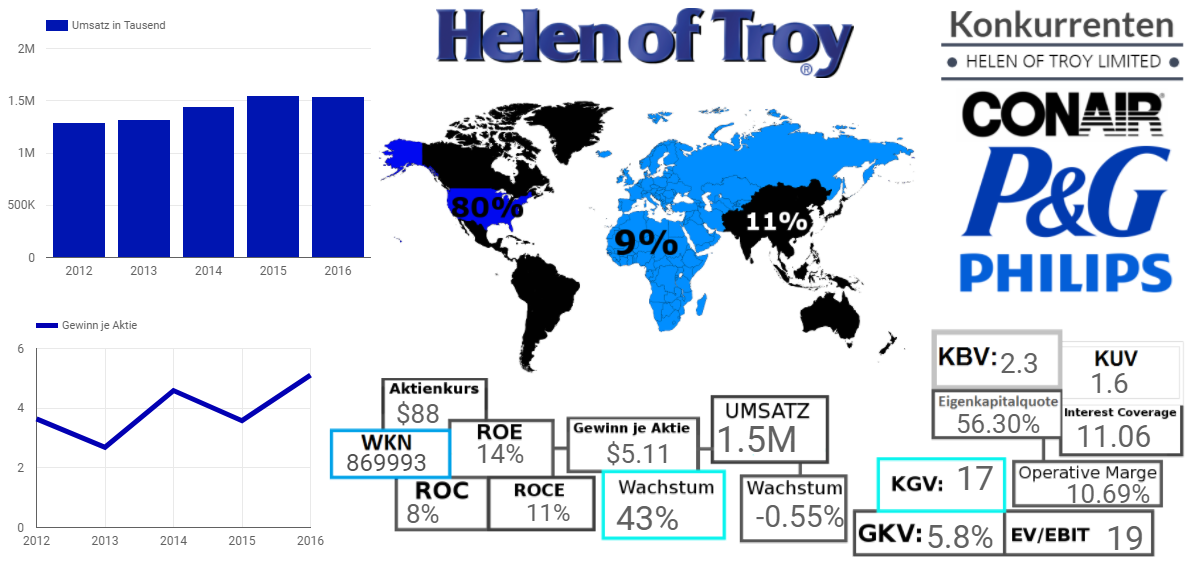 Helen of Troy Limited
Die HELEN OF TROY LIMITED ist einer der führenden US-amerikanischen Non-Fast-Moving Konsumgüterproduzenten.
Das Geschäft wird dabei in folgende vier Segmente gegliedert:
Haushaltswaren (HW), in diesem Segment bietet der Konzern verschiedenste Haushaltswaren an, reichend von Dosen über Becher und Isolierflaschen bis hin zu Kinderstühlen oder auch Besteck.
Gesundheit und Haus (G&H), in dieser Division bietet der Konzern verschiedenste Gesundheits- und Haushaltsprodukte an reichend von Thermometern und Blutdruckmessern über Wasser-Filtrationssysteme für Privathaushalte bis hin zu Lufterfrischern oder Ventilatoren.
Nahrungsergänzungsmittel (NM), in diesem Segment bietet das Unternehmen verschiedene Nahrungsergänzungsmittel reichend von Vitamin- über Mineralstofftabletten bis hin zu Produkten zur Hautpflege oder der Schmerzlinderung.
Beauty-Produkte (B&P), in dieser Division bietet der Konzern verschiedenste Beauty-Produkte sowohl für Konsumenten als auch für professionelle Anwender. Zu den Produkten gehören unter anderem verschiedenste Shampoos, Deos oder auch Parfüms. Aber auch Produkte wie Käme, Haarglätter oder auch Föhne gehören zum Sortiment in diesem Segment.
Das Unternehmen vertreibt die Produkte zum Großteil unter eigenen Marken, zum Teil aber auch unter Marken, die es von anderen Unternehmen lizensiert. Dabei fallen bei den lizensierten Marken Teile des Umsatzes auf die Lizenzkosten ab.
Zu den eigenen Marken gehören unter anderem OXO im HW-Segment, PUR im Gesundheitssegment, OxyRub oder Sleep Answer im NM-Segment sowie bspw. Hot Tools oder Brut im B&P-Segment.
Zu den lizensierten Marken gehören unter anderem Honeywell, Braun, Vicks, Revlon oder auch Bed Head.
Vermarktet werden die Produkte in ca. 75 Ländern, wobei das Unternehmen sie selbst vor allem an verschiedenste Händler verkauft über welche sie schließlich an den Endkunden kommen. Ein kleiner Teil der Umsätze wird allerdings auch durch den Verkauf der Produkte über direkte Kanäle, wie eigene Online-Shops, an die Endkunden generiert.
Der größte Kunde des Unternehmens war dabei sowohl 2016, 2015 als auch 2014 Wal-Mart welcher für 15, 16 bzw. 18 Prozent der Umsätze verantwortlich war, wobei keine anderer Kunde für 10 bzw. mehr als 10% der Umsätze sorgte, die größten 5 Kunden gemeinsam aber für 43, 40 und 41% in den Jahren 2016, 2015 und 2014.
Fazit - 869993
1968 rief Jerry Rubin in El Paso, einer Stadt im US-Bundesstaat Texas, einen Perückenladen ins Leben. In den nächsten Jahren diversifizierte das Unternehmen sein Sortiment immer weiter und etablierte sich bis 1975 als erfolgreicher Player im Geschäft mit Haartrocknern und Lockenstäben. 1980 erfolgte die erste Lizenzvereinbarung, womit der Grundstein für eine erfolgreiche Zukunft gelegt wurde, wobei das Unternehmen in den nächsten Jahren immer mehr Marken akquirierte und Lizenzvereinbarungen mit vielen großen Namen einging.
Heute ist die Helen of Troy Limited einer der führenden US-amerikanischen Konzerne im Konsumgütermarkt, dessen 1685 Mitarbeiter im Jahr 2016 einen Umsatz von mehr als 1.5 Milliarden US-Dollar erwirtschafteten.
Das Wachstum ist dabei dem Markt sowie dem Alter entsprechend nicht wahnsinnig hoch, befindet sich mit einem durchschnittlichen jährlichen Umsatzwachstum von 4.59% in den letzten 5 Jahren, allerdings auf einem akzeptablen Niveau.
Etwas attraktiver ist hier schon die Rentabilitätssituation des Unternehmens, wobei die Gesamtrentabilität von 8% einen durchaus starken Wert darstellt. Vor diesem Hintergrund halte ich auch die Akquisitionen des Konzernes für in Ordnung, wobei diese wie man an der Rentabilität sieht, zu durchaus vernünftigen Preissetzungen stattfinden.
Doch nicht nur die Investitionseffizienz ist solide, sondern auch die operative Effizienz, wobei die operative Marge mit fast 11% für einen Konsumgüterhersteller durchaus solide ist.
Das keine Dividende ausgeschüttet wird, halte ich vor dem Hintergrund der Rentabilität für akzeptabel, hätte aber vor allem vor dem Hintergrund des nicht sehr starken Wachstums nichts gegen eine Ausschüttung in Richtung der 50%-Marke.
Finanziell steht der Konzern mit einem Interest Coverage von 11 und einer Eigenkapitalquote von 56% solide dar, wobei die zyklische Anfälligkeit ohnehin nicht sonderlich hoch ist.
Die Preissetzung halte ich vor dem Hintergrund all dieser Zahlen aktuell für fair, allerdings nicht wahnsinnig attraktiv, aus welchem Grund ich mir das Unternehmen bei dem aktuellen Kurs auch nicht genauer ansehen werde. Bei einem Kursrückgang werde ich eine genauere Analyse dieses fundamental grundsoliden Konzernes aber durchaus in Betracht ziehen.