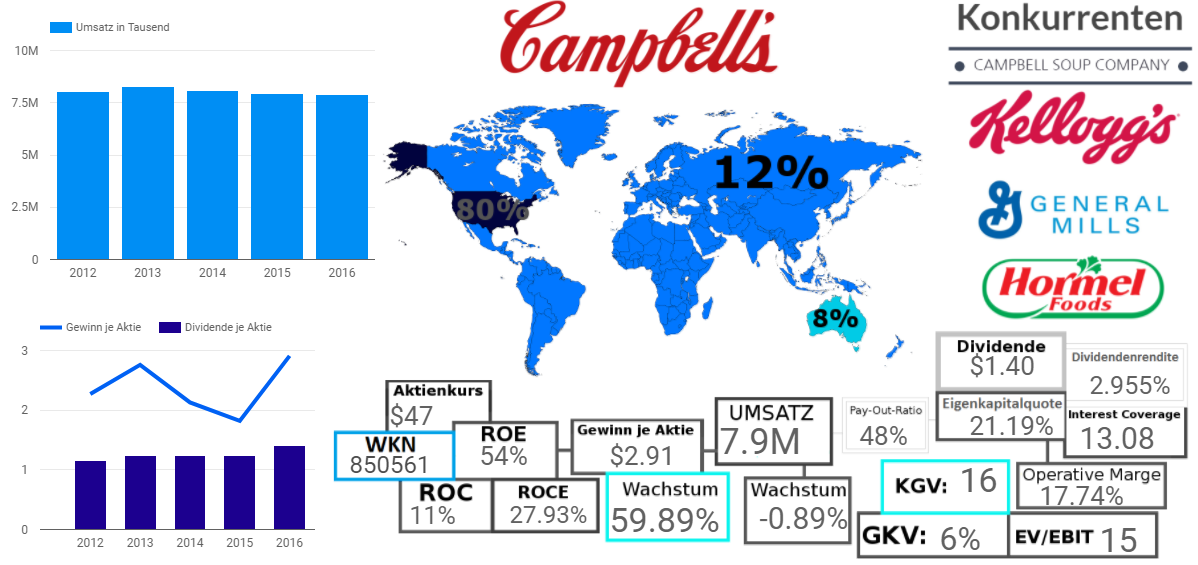 Campbell Soup Company
Die CAMPBELL SOUP COMPANY ist ein Produzent und Vermarkter von Marken-Nahrungs- und Getränkeprodukten. Der Großteil der Produkte des Unternehmens werden in Dosen verkauft. Das Unternehmen gliedert sein Geschäft dabei in drei Segmente auf, welche sich hauptsächlich nach Produktkategorien unterschieden:
Americas Simple Meals and Beverages (ASM&B), in diesem Segment ist das Unternehmen in den USA, Kanada und Lateinamerika aktiv und verkauft Produkte unter verschiedenen Marken wie Campbells Dosen-Suppe, Pregos Pasta-Sauce, V8 Säfte oder Campbells Tomatensaft. Das Unternehmen verkauft dabei sowohl an Einzelhändler bzw. Großhändler als auch direkt an Essensdienstleister.
Global Biscuits and Snacks (GB&S), in diesem Segment verkauft das Unternehmen verschiedenste Knabbereien unter unterschiedlichen Marken. So beispielsweise Pepperidge Farm Kekse, Crackers und andere Backprodukte in den USA, Arnott´s Biscuits in Australien und Asien oder auch Kelsen Kekse auf globaler Basis.
Campbell Fresh (CF), in diesem Segment verkauft das Unternehmen verschiedene eher gesunde Lebensmittel und Produkte wie beispielsweise fertig geschnittenen Karotten unter der Bolthouse Farms Marke, Salatdressings, Humus oder auch Tortilla Chips sowie tiefgefrorene Suppen.
Das Unternehmen produziert die Produkte selbst, kauft die Zutaten und das Verpackungsmaterial allerdings bei verschiedensten unabhängigen Anbietern ein. Das Unternehmen verkauft vor allem an Einzel- bzw. Großhändler wobei Wal-Mart den größten Kunden darstellt, welcher für ca. 20% des Gesamtumsatzes sorgt. Ansonsten gibt es keine Kunden, welche für mehr als 10% des Umsatzes verantwortlich sind, wobei die fünf größten Kunden gemeinsam 39% des Umsatzes ausmachen.
Fazit - 850561
1869 gründeten der Obst-Händler Joseph A. Campbell und der Eisbox(Vorgänger des Kühlschranks)-Produzent Abraham Anderson ein Unternehmen welches Tomaten, Gemüse, Suppen und Hackfleisch in Dosen verkaufte.
Trotz erste Erfolge trennte sich Anderson 1876 von Campbell, welcher das Unternehmen von dann an alleine weiterführte. Der wirkliche Durchbruch gelang schließlich durch die Idee, Suppen noch weiter zu verdichten indem man einfach den Wassergehalt verringert. Nachdem das Unternehmen einige verschiedene Führungsriegen erlebte konnte vor allem William Beverly Murphy das Unternehmen noch einmal entscheidend weiter expandieren, so dass es im Jahre 1978 als einer der weltweit größten Nahrungsmittelkonzerne an die Börse ging.
Auch heute zählt die Campbell Soup Company mit einem Umsatz von fast 8 Milliarden US-Dollar zu den führenden Nahrungsmittelkonzernen der USA. Das Unternehmen ist im Grunde fast ausschließlich in den USA aktiv, wobei ich auch keine erhöhte Internationalisierung in Zukunft erwarte.
Nominell verzeichnet das Unternehmen aktuell im Grunde kein Wachstum wobei das durchschnittliche jährliche Umsatzwachstum bei -0.5% lag. Hierbei erwarte ich keine Umkehrung des Trends sondern eher eine langfristige Stagnation bzw. leichte Reduktion der Umsätze.
Entsprechend fokussiert sich das Unternehmen aktuell auch auf die Effizienz, was sich sowohl in den Margen als auch der Rentabilität wiederspiegelt, wobei sowohl der Wert für die Gesamtkapitalrentabilität als auch die operativen Margen für das Geschäft des Unternehmens überdurchschnittlich hoch sind.
Dennoch verstehe ich aktuell nicht, wieso das Unternehmen nur 48% des Gewinnes ausschüttet, denn wenn es keine Wachstumsmöglichkeiten gibt, kann ich die Aktionäre auch an einem Großteil des Gewinnes teilhaben lassen.
Finanziell ist der Konzern ausreichend stabil aufgestellt, wobei das Geschäft ja ohnehin nicht zyklisch anfällig ist.
Die aktuelle Preissetzung halte ich mit Blick auf die regressiven Umsätze für zu hoch und werde mir den Konzern aus diesem Grund nicht ansehen, was ich aufgrund der Opportunitätskosten aber auch in Zukunft nicht unbedingt vorhabe.