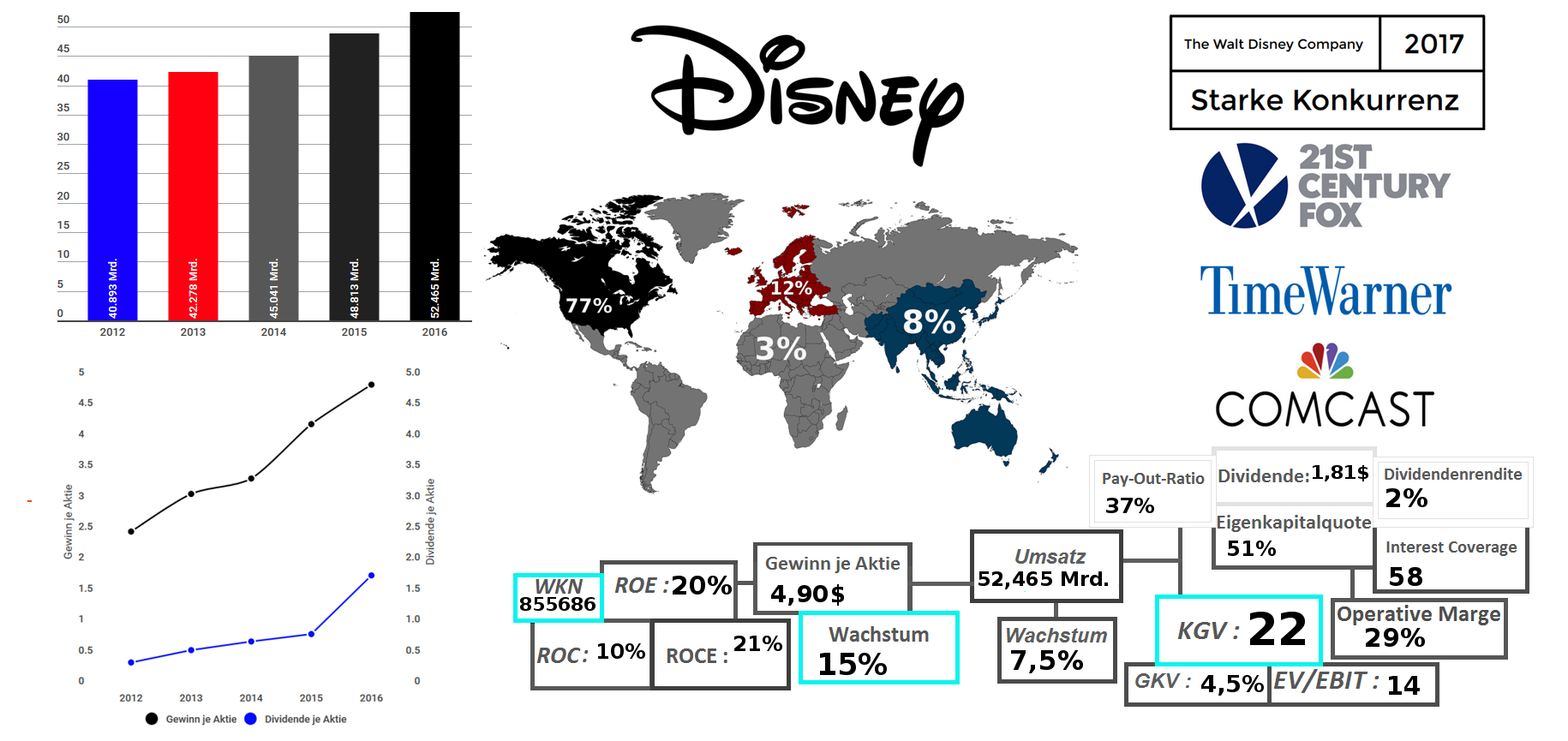 The Walt Disney Company
MEDIA NETWORKS, dieses Segment umfasst eine Reihe an Kabel- und Rundfunk-TV Netzwerken, TV Produktionstätigkeiten, TV Stationen sowie Radio Netzwerke und Stationen.
Zu den Kabelnetzwerken gehören ESPN, die Disney Channels und die ABC Familie. Das Unternehmen strahlt dabei selbst produzierte als auch von anderen gekaufte Inhalte aus und generiert seinen Umsatz hauptsächlich durch Werbeeinahmen, genau wie auch bei den eigenen Radionetzwerken. Natürlich verdient das Unternehmen aber auch durch den Verkauf von eigenen Produktionen an andere TV-Netzwerke bzw. den Verkauf der Rechte selbige auszustrahlen.
PARKS AND RESORTS, in diesem Segment besitzt und betreibt das Unternehmen das Walt Disney World Resort in Florida, das Disneyland Resort in Kalifornien, ein Disney Resort & Spa in Hawaii, den Disney Vacation Club, die Disney Cruise Line und Adventures by Disney. Das Unternehmen managet zusätzlich einen effektiven Anteil von 81% am Disneyland Paris, 47% am Hong Kong Disneyland Resort und 43% im Shanghai Disney Resort. Das Unternehmen lizensiert zusätzlich intellektuelle Vermögenswerte an eine Drittpartei welche das Tokyo Disney Resort in Japan betreibt. Die Tätigkeiten des Unternehmens bestehen aus dem Entwickeln und der Umsetzung neuer Ideen für Themenparks sowie den Betrieb und Bau selbiger. Der Umsatz wird durch Eintrittskarten, Essen, Getränke, Merchandise, Hoteleinnahmen, den Verkauf von Schifffahrts- oder anderen Urlaubspaketen sowie die Vermietung von Vacation Club Häusern generiert. Außerdem besitzt das Unternehmen mit all den Immobilien und Flächen wertvolle Vermögenswerte.
STUDIO ENTERTAINMENT, dieses Segment produziert und kauft das Unternehmen Filme, musikalische Aufnahmen und Theateraufführungen. Das Unternehmen generiert seinen Umsatz durch die Distribution von Filmen an Kinos, Einzelkunden oder über TV, Ticketverkäufe (Theater), die Distribution von Musik und die Lizensierung selbiger auf Live-Events.
Zu den Filmmarken des Unternehmens gehören hauptsächlich Walt Disney Pictures, Pixar, Marvel, Lucasfilm, UTV und Touchstone. IM August 2009 ging das Unternehmen zusätzlich einen Deal mit DreamWorks Studios ein, dass es deren Filme distributieren darf und wofür es eine Gebühr erhält.
CONSUMER PRODUCTS, in diesem Segment engagiert sich das Unternehmen mit Lizenznehmern, Verlagen und Einzelhändlern um basierend auf den intellektuellen Vermögenswerten des Unternehmens Produkte zu entwickeln, designen, vermarkten und verkaufen. IN diesem Segment verdient das Unternehmen sein Geld durch die Lizensierung der Charaktere aus Filmen an Dirttparteien welche daraus Merchandise produzieren, den Verlag von Kinderbüchern und Comics, den Verkauf von Merchandise durch eigene Multi-Channel-Kanäle sowie die Gebühren die vonEnglischschulen in China, welche das Unternehmen betreibt, generiert werden.
INTERACTIVE, in diesem Segment kreiert und liefert das Unternehmen Unterhaltung über interaktive Media-Plattformen. Der Umsatz wird durch den Verkauf von Multi-Plattform-Spielen an Einzelhändler, die Einnahmen durch IN-Game-Käufe, die Lizensierung von Inhalten für Spiele von Dirttparteien und durch Werbung verdient.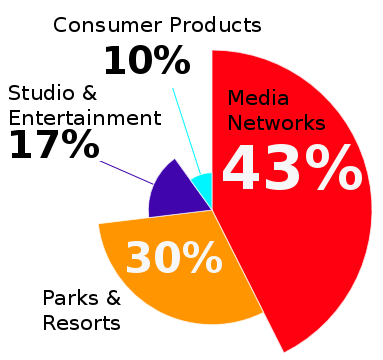 Fazit - 855686
The Walt Disney Company ist eines der größten Unterhaltungsunternehmen dieser Welt und je nach Definition von Unterhaltung sogar das Größte. Das Unternehmen generiert seinen Umsatz ausvielen verschiedenen Quellen doch ist – für mich überraschend – sehr USA-lastig aufgestellt. Dies bedeutet für mich und das Wachstum der Mittelschicht in allen (meines Erachtens) wichtigsten Entwicklungsländern hohes Wachstumspotential für Disney – denn die Mittelschicht lässt sich gerne unterhalten. Dagegen drückt das TV Geschäft (und die sinkenden Werbeeinahmen daraus) was aber mit dem Wachstum der anderen Umsatz-Quellen des Unternehmens kein Problem sein dürfte. Den Umsatz konnte das Unternehmen schon in den letzten Jahren ebenso wie die Dividende und den Gewinn je Aktie stetig steigern. Finanziell ist das Unternehmen finanziell aufgestellt und kann ohne Bedenken bei Bedarf auch noch mehr Fremdkapital aufnehmen (was dem Unternehmen heute leichter fallen sollte als dem Gründer). Die operative Marge ist prächtig und auch die Kapitalrentabilität lässt nicht (viel) zu wünschen übrig. Vor diesem Hintergrund bin ich mit dem Pay-Out-Ratio völlig zufrieden, woher wiederum meine Zufriedenheit mit der Dividendenrendite weht. Die Bewertung wirkt auf mich sehr vernünftig und Disney stellt für mich (vor allem vor dem Hintergrund der internationalen Wachstumsaussichten) einen Kandidaten für eine weitere Analyse dar.