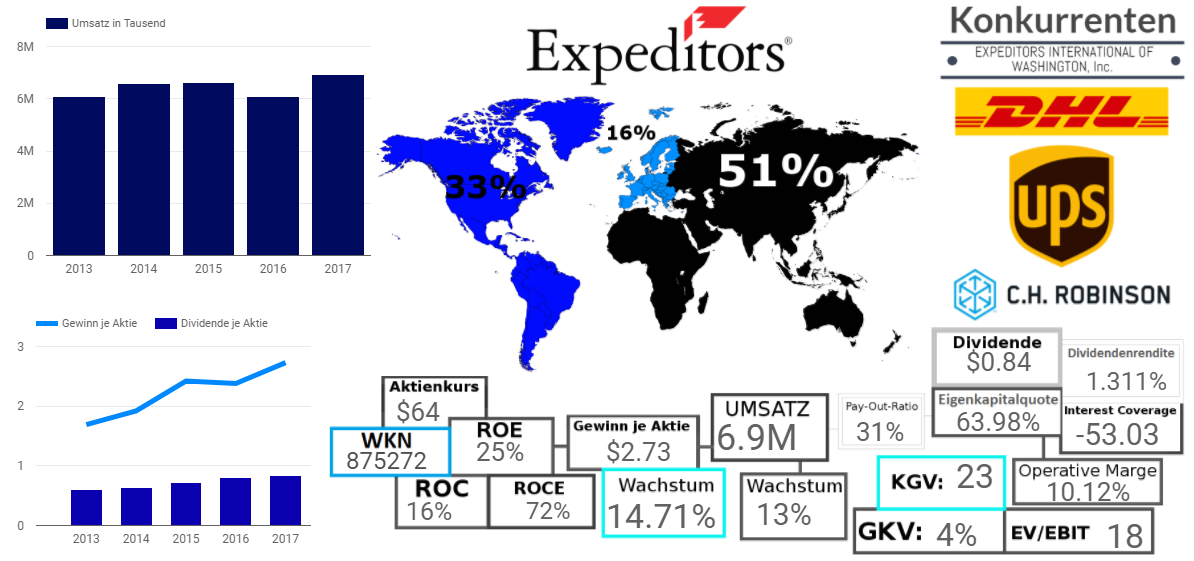 EXPEDITORS INTERNATIONAL OF WASHINGTON, INC.
Die EXPEDITORS INTERNATIONAL OF WASHINGTON, INC. ist einer der führenden US-amerikanischen drittparteiischen Dienstleister im weltweiten Logistikmarkt. Das Unternehmen bietet dabei komplette Lösungen für die Kunden, welche diesen die optimale Positionierung und Lieferung ihrer Produkte ermöglicht.
Das Hauptmodell des Konzernes besteht darin Fracht-Kapazitäten von Logistikdienstleistern zu kaufen und diese dann im Zuge einer vollständigen Logistiklösung an die Kunden weiterzuverkaufen. Dabei ist der Konzern vor allem in der Luft- und Schifffahrtlogistik aktiv besitzt aber selber kein einziges Schiff oder Flugzeug.
Die Bandbreite der vom Unternehmen gebotenen Leistungen reicht dabei aus Sicht der Kunden von temperaturkontrolliertem Transport über Zollabwicklung bis hin zur Zwischenlagerung von Produkten.
Gegliedert wird das Geschäft in die folgenden drei Segmente:
Luftfracht (LF), in diesem Segment arbeitet der Konzern mit Logistikdienstleistern in der Luftfracht zusammen und kauft dabei zum einen Frachtkapazitäten bei diesen ein, welche er dann den eigenen Kunden zu einem Preis weiterverkauft, denn sie selbst mit den Logistikern nicht vereinbaren könnten. Zum anderen konsolidiert das Unternehmen auch einzelne Sendungen fasst diese zusammen und kann damit den einzelnen Sendern bessere Preise bieten, als diese alleine bekommen könnten.
Schifffracht (SF), in dieser Division verfolgt das Unternehmen im Grunde das exakt selbe Modell wie in der Luftfracht Division mit dem einzigen Unterschied, dass es sich nicht um Luftfracht und Flugzeuge sondern Seefracht und Schiffe handelt.
Zollabwicklung und andere Leistungen (Z&A), in diesem dem letzten Segment ist das Unternehmen zum einen im Bereich der Zollabwicklung aktiv und hilft den Kunden dabei, die jeweilige Fracht möglichst effizient durch das Zollamt zu bringen. Auch bietet das Unternehmen in diesem Segment Leistungen wie das Managen vom Inventar des Kunden, das Managen der Lagerung und Ähnliches an.
Fazit - 875272
1979 gründete John Kaiser die Expeditors International of Washington, Inc. mit nur einem Büro im US-Bundesstaat Seattle. Der Logistikdienstleister expandierte schnell, wobei 1981 sieben weitere Gründer einstiegen und 6 weitere Standorte in Asien und den USA eröffneten. Bereits 1984 hat sich das Unternehmen erneut verdoppelt und ging mit 12 Standorten, 161 Mitarbeitern und einem Umsatz von 50 Millionen an die Börse.
Seither hat sich der Konzern weiter stark entwickelt, sodass die 16.500 Mitarbeiter, welche der Konzern Stand Dezember 2017 beschäftigte in eben diesem Jahr einen Umsatz von mehr als 6.9 Milliarden US-Dollar erwirtschafteten.
Die Größe hat in den letzten Jahren erwartungsgemäß zwar nachgelassen liegt mit einem jährlichen Durchschnitt von 3.6% in den letzten 5 Jahren aber auf einem soliden Niveau, dass auf eine langfristige reale Stagnation hinweist.
Die Rentabilität hat da schon ein bisschen mehr zu bieten, wobei die Gesamtkapitalrentabilität von 16% einen Spitzenwert darstellt und von klugen Investments zeugt. Auch die operative Marge kann sich mit mehr als 10% für ein Unternehmen in einer derartig kompetitiven Branche durchaus sehen lassen und zeugt von einem ordentlichen Burggraben sowie einer soliden Preissetzungsmacht.
Vor dem Hintergrund dieser Zahlen halte ich auch die Ausschüttungspolitik für akzeptabel, wenn ich mit Blick auf das Wachstum auch nichts gegen eine Anhebung in Richtung der 50-75% Marke hätte.
Finanziell ist das Unternehmen dabei ebenso sehr stabil aufgestellt, wobei weder die Eigenkapitalquote noch das Interest Coverage auf irgendein finanzielles Risiko hinweist. (Das negative Interest Coverage kommt durch Zinseinnahmen zu Stande, welche die Zinsausgaben übersteigen)
Alles in allem ist die EXPEDITORS INTERNATIONAL OF WASHINGTON, INC. also ein fundamental hochqualitativer Konzern mit einem sehr soliden und stetigen Geschäftsmodell. Auf Basis des Wachstums ist die aktuelle Preissetzung allerdings dennoch etwas hoch, weshalb ich mir den Konzern aktuell nicht genauer ansehen werde, eine genauere Analyse bei einem Preisrückgang aber auf jeden Fall in Betracht ziehe.