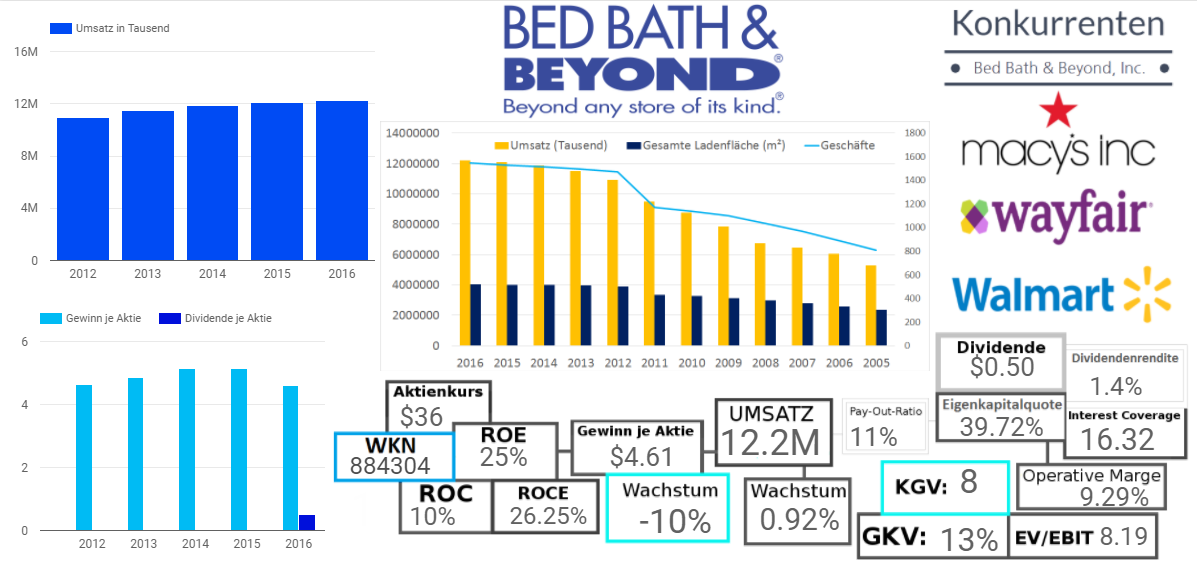 Bed Bath & Beyond Inc.
Die Bed Bath and Beyond Inc. ist ein auf vielen Kanälen aktiver EInzelhändler (E-Commerce, Physische Geschäfte, Mobile Commerce), welcher sich auf den Verkauf von Produkten für das Heim und Events wie Hochzeiten konzentriert.
Im Grunde ist das Unternehmen also ein Händler von Inneneinrichtungsgegenständen und anderen kleinen Accessoires. Dabei reichen die Produkte von Schreibtischen und verschiedensten Sesseln über Kochtöpfe und Geschirr bis hin zu Polstern und Bettdecken.
Gestartet ist der Konzern mit zwei Stores welche hauptsächlich Bett-Leinen und Accessoires für das Bad verkauften. Erst 14 Jahre später kam das erste Geschäft mit Inneneinrichtungsgegenständen auf den Markt und schon 21 Jahre nach der Gründung ging das Unternehmen mit 34 Geschäften an die Börse woraufhin es schon im Jahre 1999 den eigenen Online-Shop eröffnete und damit eine klare Vorreiterrolle in diesem Bereich einnimmt.
Neben dem eigenen Geschäft hat sich das Unternehmen vor allem durch Akquisitionen auch noch in einige weitere Marken diversifiziert, wobei es sich bei den meisten auch um Einzelhändler handelt welche Produkte von Gesundheits- und Schönheitspflege über Nahrungsmittel bis hin zu Baby-Artikeln verkaufen.
Insgesamt betreibt das Unternehmen 1546 Geschäfte wobei 1023 davon Bed Bath and Beyond Stores sind und der Rest aus den Geschäften der unzähligen akquirierten Unternehmen besteht.
Das Unternehmen ist vom Preis her eher im günstigen bis mittelpreisigen Markt für die jeweiligen Produkte positioniert. Das Unternehmen bezieht die Produkte von gut 10,800 Zulieferern, wobei der größte dieser gerade einmal für 2% des Volumens sorgt.
Fazit - 884304
Als Warren Eisenberg und Leonard Feinstein im Jahre 1971 ihr erstes Bed'n Bath Geschäft eröffneten, hätten sie wohl niemals geglaubt, dass sie schon im Jahre 1992 mit ganzen 34 Geschäften an die Börse gehen würden.
Genau das ist aber passiert und unter anderem auch durch den Einfluss der beiden Gründer, welche auch heute noch die beiden Aufsichtsratsvorsitze inne haben, konnte das Unternehmen schon 1999 den ersten Online-Shop eröffnen, was ein entscheidender Treiber des heutigen Erfolges des Unternehmens war.
Heute ist das Unternehmen mit einem Umsatz von mehr als 12 Milliarden einer der weltweit größten Einzelhändler im Bereich für Inneneinrichtung und kann eine enorm stabile Wachstumshistorie aufweisen.
Dieses Wachstum kommt unter anderem auch durch die vielen Akquisitionen zusammen, welche das Unternehmen durchführt. Derartigen Wachstumsstrategien blicke ich grundsätzlich meist skeptisch entgegen, da das Unternehmen aber vor allem kleinere Unternehmen übernimmt, erweist sich diese Methodik bei Bed Bath & Beyond als enorm rentabel – wie die Kapitalrentabilität von 10% eindrucksvoll darstellt.
Auch die Margen des Unternehmens sind trotz der eigentlich recht günstigen Produkte sehr gut und auch finanziell ist das Unternehmen, welches wie man an der langfristigen Statistik sehen kann ohnehin nicht sehr zyklisch ist, finanziell stabil aufgestellt.
Das Pay-Out-Ratio ist aktuell enorm niedrig, wobei die Dividendenrendite vor diesem Hintergrund wirklich beachtenswert ist. Aufgrund der Kapitalrentabilität und eines Modelles mit dem das Unternehmen in den letzten Jahren enorm solide wachsen konnte halte ich die geringe Ausschüttung allerdings für vertretbar.
Der einzige negativ anzumerkende Punk sind die enorm instabilen und volatilen operativen Margen des Konzerns.
Aber dennoch werde ich mir den Konzern aufgrund all dieser Faktoren bei einer aktuellen Preissetzung mit einem GKV von 13% auf jeden Fall weiter ansehen, denn selbst wenn das Unternehmen plötzlich vollkommen aufhören sollte zu wachsen, so ist diese Preissetzung immer noch sehr niedrig.