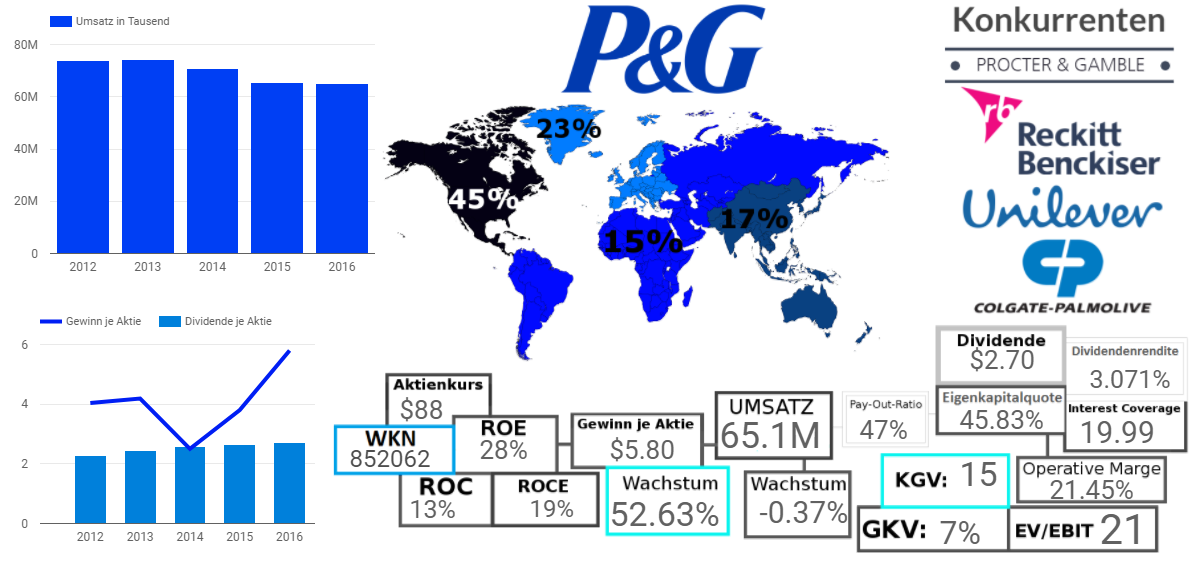 The Procter and Gamble Company
Die Procter and Gamble Company ist eines der weltweit führenden Konsumgüterunternehmen und gliedert sein breites und markenstarkes Portfolio in folgende fünf Segmente auf:
Beauty, in diesem Bereich stellt das Unternehmen unter anderem Haarpflegemittel, Deos, Hautpflegemittel oder auch Mittel zur Körperpflege her. Bekannte Marken sind Head and Shoulders, Pantene oder Olay.
Rasur, in diesem Segment stellt das Unternehmen alle Produkte rund um die Rasur her, recichend von Rasieren über Rasierschaum bis hin zu Pre- oder Post-Rasur-Pflegeprodukten. Bekannte Marken sind Braun, Fusion oder Venus.
Gesundheitspflege, in diesem Segment stellt das Unternehmen Produkte für zwei Bereiche her zum einen den Bereich der Mundpflege, wobei die Produkte von Zahnbürsten bis hin zu Mundwassern reichen und zum anderen den Bereich der persönlichen Gesundheitspflege reichend von Vitaminen und Mineralstoffen bis hin zu Medikamenten für kleinere Krankheiten. Bekannte Marken sind Oral-B oder Vicks.
Baby-Pflege, Familienpflege und Frauenpflege (BFFP), in diesem Segment stellt das Unternehmen unter anderem Feuchttücher, Windeln, Küchenrollen, Klopapier, Taschentücher oder auch Binden her. Bekannte Marken sind Pampers, Always, Bounty, Luvs und Charmin.
Stoffpflege und Haushalt (S&H), in diesem Segment stellt das Unternehmen unter anderem Dinge wie Waschmittel, Weichspüler, Geschirrspülmittel, Boden- und Staubwischer oder beispielsweise auch Lufterfrischer her. Bekannte Marken sind Swiffer, Ariel, Febreze, Meister Properoder Cascade.
Fazit - 852062
Der britannische Kerzenproduzent William Procter und der irische Seifenmacher James Gamble wanderten in jungen Jahren nach Amerika aus und trafen sich das erste Mal dadurch, dass sie die beiden Schwestern Olivia und Elizabeth Norris heirateten.
Deren Vater Alexander vereinbarte schließlich ein Meeting und überzeugte die beiden Geschäftspartner zu werden und Procter and Gamble zu gründen, ein Unternehmen, welches am 31 Oktober 1837 schließlich die Welt erblickte. Innerhalb von gut 20 Jahren erreichte der Konzern mit seinen Seifen und Kerzen Umsätze von einer Million und expandierte danach rasant weiter, wobei die ersten internationalen Standorte um 1930 eröffnet wurden.
Heute ist das Unternehmen mit gut 95.000 Mitarbeitern bei einem Umsatz von mehr als 65 Milliarden US-Dollar einer der weltweit größten Konsumgüterhersteller. Der Konzern ist entsprechend breit diversifiziert und das sowohl international als auch aus Sicht der Produkte.
In den letzten Jahren sieht sich der Konzern mit immer sinkenden Umsätzen konfrontiert, wobei das durchschnittliche jährliche Umsatzwachstum der letzten 5 Jahre bei -3% liegt.
Aus Sicht der Margen und Effizienz sieht es natürlich besser aus, wobei sowohl die Operativen Margen von 21% als auch die Gesamtkapitalrentabilität von 13% für ein sehr starkes Markenportfolio und eine starke Marktposition spricht.
Hierbei muss auch bemerkt werden, dass das Unternehmen in den letzten Jahren der sinkenden Umsätze auch aus Sicht des Gesamtkapitals sowie der Mitarbeiter abgebaut hat und damit eher auf Effizienzsteigerung als eine Umkehrung des Abwärtstrends setzt.
Finanziell braucht man sich bei einem Unternehmen wie Procter and Gamble ohnehin keine Sorgen zu machen, wobei das Interest Coverage von 20 hier völlig ausreichend ist.
Die Dividende ist zwar mit Blick auf die Rentabilität in Ordnung, da das Unternehmen aber stetig sinkende Umsätze verzeichnet, erwarte ich eine höhere als 50 prozentige Ausschüttung.
Die Preissetzung ist mit einem GKV von 7% zwar nicht hoch, sehe ich mir allerdings die Wachstumszahlen der letzten Jahre an, so halte ich auch diese Preissetzung für überzogen und werde mir den Konzern aus diesem Grund auch nicht genauer ansehen, wobei ich dies in Zukunft auch nicht unbedingt vorhabe, da die Opportunitätskosen einfach zu hoch sind um in einen regressiven Konzern zu investieren.