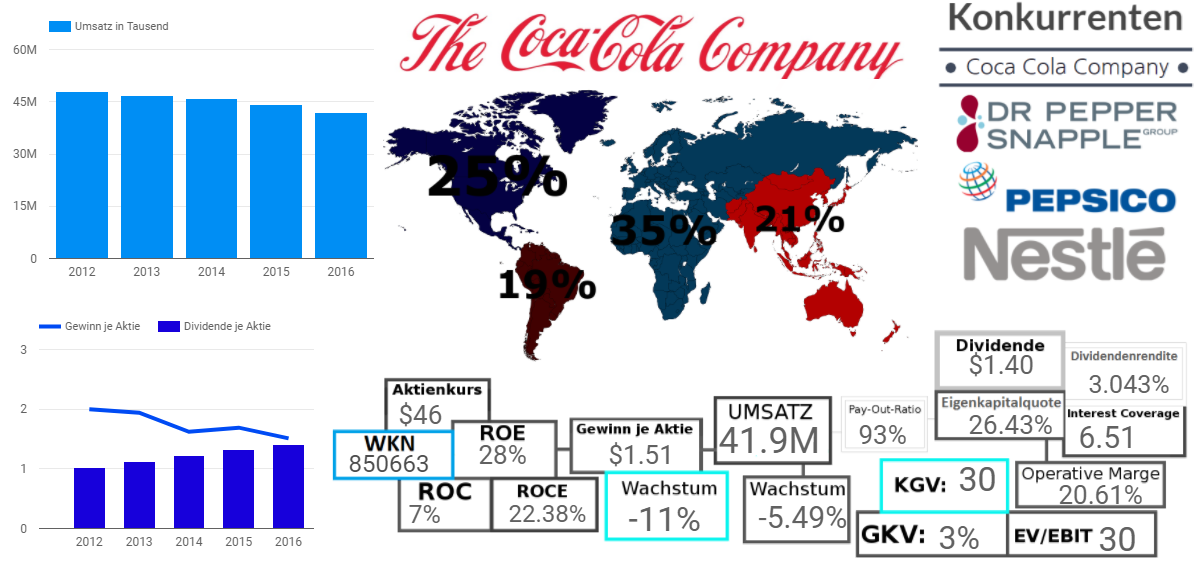 The Coca-Cola Company
Die Coca-Cola Company ist ein weltweit führendes Getränkeunternehmen und besitzt bzw. lizensiert sowie vermarktet mehr als 500 nicht-alkoholische Getränke, hauptsächlich sprudelnde Getränke aber auch eine Anzahl an stillen Getränken wie Säfte, Ready-to-Drink Tees und Kaffees. Das Unternehmen besitzt und vermarktet vier der Top fünf nicht-alkoholischen prickelnden Getränke-Marken: Coca-Cola, Diet Coke, Fanta und Sprite. Die Produkte des Konzernes werden in mehr als 200 Ländern vertrieben.
Das Unternehmen hat ein Netzwerk an Tochterunternehmen und kontrollierten Unternehmen welche die Produkte rund um die Welt abfüllen und an die verschiedensten Weiterverkäufer vertreiben. Zudem hat das Unternehmen noch unabhängige Partner in den Bereichen der Abfüllung, Distribution, und dem Verkauf. Dieses Netzwerk ist das weltweit größte Getränke-Distributionsnetzwerk. Die Getränke der Marken der Coca Cola Company sorgen für mehr als 1,9 Milliarden der knapp 58 Milliarden Getränke die jeden Tag weltweit konsumiert werden.
Das Unternehmen hat zwei Formen der Produkterzeugung bzw. Umsatzgenerierung:
Getränke-Konzentrate, in diesem Segment generiert das Unternehmen Umsätze durch den Verkauf von Konzentraten und Sirups an autorisierte Abfüllungs-Partner. Die Partner kombinieren dieses Konzentrat dann je nach Produkt mit weiteren Zusatzstoffen oder geben einfach sprudelndes Wasser hinzu um die fertigen Getränke herzustellen und verkaufen sie schlussendlich an die Einzelhändler und andere Distributoren, welche die Produkte an den Endkunden bringen.
Fertige Getränke, in diesem Segment übernimmt das Unternehmen die Produktion selbst und verkauft die Produkte an Groß- und Einzelhändler weiter. Bei diesem Modell sind die Umsätze zwar höher allerdings auch die Rohertragsmargen geringer als im ersten Fall.
Fazit - 850663
Anfangs durfte Asa Candler das ursprünglich von Charley Pemberton entwickelte Getränk "Coca-Cola" zwar herstellen musste es allerdings unter den Namen Yum Yum und Koke verkaufen, da Pemberton das Getränkt selbst unter dem Namen Coca Cola verkaufte.
Nach dem Tod von Pemberton am 16. August 1888 sah Candler schließlich seine Chance und kaufte die gesamten Rechte über Coca Cola von Pembertons alkoholabhängigem Sohn. 1892 gründete er dann schließlich die The Coca-Cola Company, mit voller Kontrolle über die Rechte des Getränks "Coca-Cola".
Der Konzern konnte schnell expandieren, so dass Candler das Unternehmen im Jahre 1919 für 25 Millionen US-Dollar an ein Team von Investoren verkaufen konnte, welche das Unternehmen noch im gleichen Jahr an die Börse brachten – eine gute Rendite wenn man bedenkt, dass es Candler ca. 2300 Dollar kostete die Rechte für Coca Cola zu übernehmen.
Heute ist The Coca Cola Company mit 100.300 Mitarbeitern bei einem Umsatz von gut 42 Milliarden US-Dollar einer der weltweit führenden Getränkekonzerne.
Das Unternehmen muss in den letzten Jahren stetig fallende Umsätze verzeichnen, sodass das durchschnittliche jährliche Umsatzwachstum der letzten 5 Jahre bei -3% lag. Das sind zwar keine prozentual gesehen großen Rückgänge, bei Coca-Cola entsprechen diese Zahlen allerdings Milliarden.
Dennoch ist das Unternehmen natürlich immer noch gut diversifiziert und auch die Markenstärke besteht durchaus noch, wie man an den Margen sehen kann. Die Gesamtkapitalrentabilität ist im Vergleich dazu ziemlich niedrig, wobei ich vor diesem Hintergrund das Pay-Out-Ratio für gerechtfertigt halte, wenn mir auch aufstößt, dass die Dividende sich genau im Gegensatz zum Geschäft entwickelt.
Trotz der starken Marken kann ich aufgrund all der Zahlen die Preissetzung einfach nicht verstehen und werde mir das Unternehmen vor einem substantiellen Kursrückgang auch nicht genauer ansehen, wobei ich die Coca-Cola Company aufgrund des fehlenden Wachstums ohnehin nicht sonderlich attraktiv finde.