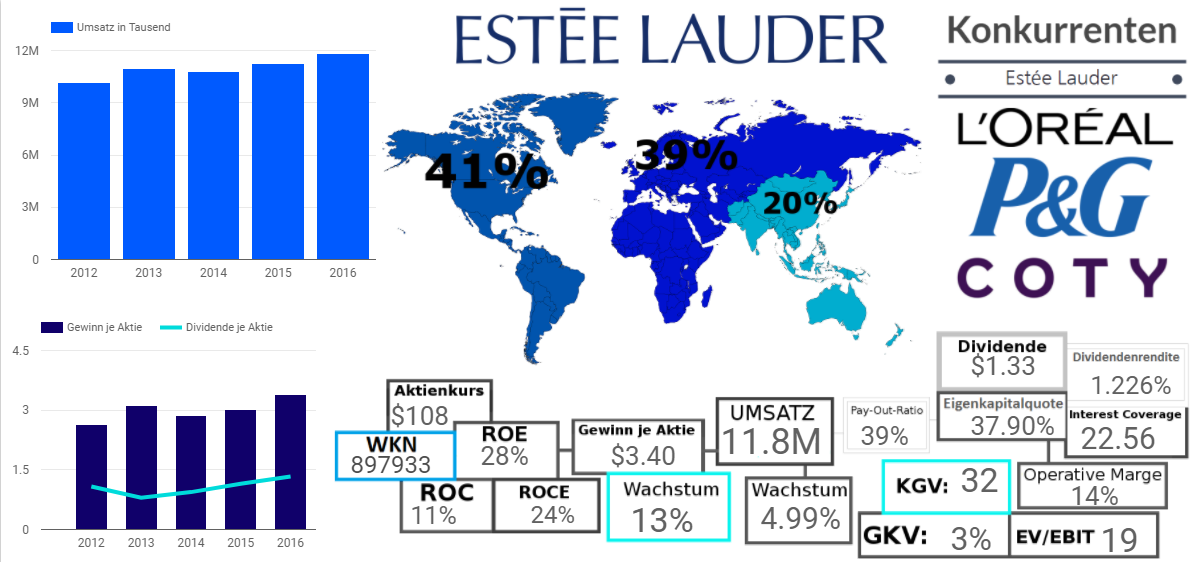 The Estée Lauder Companies Inc.
Die The Estée Lauder Companies Inc. ist einer der weltweit führenden Produzenten und Vermarkter von Hautpflege-, Makeup-, Duft- und Haarpflegeprodukten.
Der Konzern verkauft die Produkte in mehr als 150 Ländern unter einer Nummer an wertvollen Marken darunter Estée Lauder, Clinique, Origins, MžAžC, Bobbi Brown, La Mer, Jo Malone London und Aveda. Das Unternehmen ist außerdem globales Lizenzunternehmen für Düfte und/oder Kosmetik welcher unter Marken wie Tommy Hilfiger, Donna Karan New York, DKNY, Michael Kors und Tom Ford verkauft werden.
Hautpflege, in diesem Segment hat das Unternehmen ein breites Angebot an Hautpflegeprodukten reichend von Gesichtswassern über Peelings bis hin zu Gesichtsmasken und vielen weiteren Produkten.
Makeup, in diesem Segment produziert, vermarktet und verkauft das Unternehmen eine Reihe an Make-Up-Produkten darunter welche für das Gesicht, die Augen, die Lippen und die Nägel. Viele Produkte werden in einer großen Vielfalt von Farben und Tönen angeboten. Das Unternehmen verkauft außerdem noch dazugehörige Produkte wie Make-Up-Pinsel und andere Make-Up-Tools.
Düfte, in diesem Segment verkauft das Unternehmen eine Varietät an Duft-Produkten. Die Duftprodukte werden in verschiedensten Formen verkauft beispielsweise als Cremen, Puder, Seifen, Kerzen oder auch als Parfüm-Sprays.
Haarpflege, in diesem Segment bietet der Konzern verschiedenste Haarpflegeprodukte reichend von Shampoos und Haarkuren über Styling-Produkte bis hin zu Haarfärbeprodukten.
Fazit - 897933
Im Jahre 1946 gründete die damals 40-Jährige New Yorkerin Estée Lauder mit ihrem Ehemann Joseph Lauder eine Kosmetikfirma in New York City. Auch wenn das Unternehmen nur mit vier Produkten startete kam es schnell zu ersten Erfolgen und eröffnete so schon 1948 das erste größere Geschäft.
Der Konzern wuchs schnell und das vor allem aufgrund der starken Gründerin, welche als eine der erfolgreichsten und fähigsten Unternehmerinnen der USA gilt. Das Unternehmen expandierte sowohl organisch griff aber vor allem mit steigender Größe auch zu mehr und mehr Akquisitionen und konnte so ein sehr breites Portfolio aufbauen.
Heute ist die Estée Lauder Companies Inc. mit einem Umsatz von fast 12 Milliarden eines der erfolgreichsten Konsumgüter-Unternehmen der Welt. Der Konzern ist sowohl nach Produkten als auch nach Regionen recht breit diversifiziert, was die Wachstumsmöglichkeiten zwar etwas einschränkt aber gleichzeitig auch zu einer höheren Stabilität im Geschäft führt.
Dementsprechend liegt auch das jährliche durchschnittliche Umsatzwachstum der letzten 5 Jahre bei nur 4%. Aus Sicht der Rentabilität sieht es da schon besser aus, wobei sich sowohl die Gesamtkapitalrentabilität von 11% als auch die Margen von 14% durchaus sehen lassen können.
Vor diesem Hintergrund halte ich auch das Pay-Out-Ratio für in Ordnung, wenn ich aufgrund der fehlenden Wachstumsmöglichkeiten aber auch nichts gegen eine Erhöhung des Ausschüttungsniveaus hätte.
Mit einem Interest Coverage Ratio von gut 23 ist der Konzern auch finanziell stabil aufgestellt, wobei ich aus dieser Sicht, wie oben schon erläutert, ohnehin keine Bedenken habe.
Alles in allem also ein solider Konzern mit starken Marken. Die aktuelle Preissetzung mit einem KGV von 32 kann ich vor diesem Hintergrund allerdings nicht wirklich gerechtfertigten und werde mir den Konzern deshalb in näherer Zukunft auch nicht genauer ansehen. Bei einem ordentlichen Kursrückgang werde ich den Konzern aber eventuell einmal genauer analysieren, da ich ihn aus qualitativen Gesichtspunkten für recht spannend halte.